b
clustered

|

unclustered
Why Look at Dust Storms?
Cosmic Subjects, Vibrant Matter and Interstellar's Climate Change Ben De Bruyn
Like other photographs from the so-called Dust Bowl in the 1930s, the picture of the oncoming storm in Prowers County, Colorado, is a landmark image of an environmental issue that is famous for having had devastating implications for poor farmers and for resulting in a large-scale administrative response from the US government, including relief and resettlement initiatives and a sustained photography program, which ran from 1935 until 1944. According to one scholar, in fact, Dust Bowl photographs constitute the second of five iconic sets of environmental images from the twentieth century, which are related, respectively, to 'wilderness preservation, soil erosion, urban sprawl, nuclear testing, and global environmental change'. Though we should not lose sight of the particular historical and environmental aspects of the Dust Bowl, both the severity of its ecological predicament and the clear need for a concerted response make it eerily similar to climate change – a similarity that explains why archival material from this period has recently resurfaced in popular culture.
These photographs are not the only cultural responses to the unrelenting drought and storms that plagued large parts of the Great Plains in this period. Apart from two short documentary films and Woody Guthrie's Dust Bowl Ballads (1940), John Steinbeck published his famous work The Grapes of Wrath in 1939 and Sanora Babb wrote her novel Whose Names are Unknown in the same year, though it was sadly shelved until 2004. In a section that was based on real letters, one of the characters in Babb's lesser-known book at one point decides "to keep a record of the strange phenomenon of dust", providing a clear insight into the lives of those who witnessed these storms firsthand:
April 25. Blew all night and still blowing almost black. It is a terrible feeling to be in this blackness. You don't know what is going on outside and you imagine all kinds of things. It is so still, just blows and blows but as if there is no wind, just rolling clouds of dust. We haven't seen light for two days. …
April 30. … No use to keep on writing dust, dust, dust. Seems it will outlast us.
In these conditions, light cannot be taken for granted, soil turns into a storm and wind becomes eerily quiet. It even looks like this dust, the real agent in these descriptions, will outlast humans, and their writing. What more is there to say than dust, dust, dust, the character reflects, just like the photos from this period keep repeating the message dust, dust, dust, storm, storm, storm. In these conditions, days become interchangeable, shocking news turns into a new normal.
Rather than staying with these novels or discussing the extensive photographic archive of the Dust Bowl further, the rest of this paper uses the Prowers County image to reflect on environmental issues now. Contemporary culture encourages us to read these documents in a 21st-century light, after all, seeing that celebrated film director Christopher Nolan used footage from a 2012 PBS documentary about the so-called Dirty Thirties to explain the planetary predicament faced by the future humans of his sci-fi epic Interstellar (2014). In thinking about this image now, we should hence move between the US and the planet, and between 1930, 2014 and a fictional future. And this journey will answer a question that paraphrases a classic query by John Berger, namely: why look at dust storms? Because these phenomena and their cultural representations then and now confront us with several ideas that clarify our environmental predicament, like countervisuality, scale effects, cosmic subjectivity, vibrant matter, the official world and the great outdoors.
Art, scale framing and cosmic subjectivity
The question of how we can visualize a problem like climate change inevitably leads to the question of how we were able to ignore it for so long. And the inconvenient truth for artists and art critics, as Nicholas Mirzoeff has pointed out, is that Western landscape paintings have systematically portrayed the modern capitalist system in a way that naturalizes as well as aestheticizes that system's war on nature, effectively turning the aesthetics of this canonical art form into an "anaesthetics". We have learned to love the impressionist light effects captured by Claude Monet, to give but one example, and his paintings of Le Havre harbor have therefore helped us to overlook that these atmospheric effects were co-created by "the smog produced by industrial coal use" (221). Simply put, the painting's eye-opening beauty makes us overlook smoke, coal and climate, and hence helps us "to see nothing and keep circulating commodities, despite the destruction of the biosphere" (217). What is more, Mirzoeff suggests that the implied viewer of such paintings occupies the position of an elevated commander overlooking the battlefield, one who is not alarmed by smog but sees it as "a sign of human superiority and the continuing conquest of nature" (222). If anything, these canonical forms of modern art celebrate rather than condemn ecological damage.
So what are we to do if we want to visualize climate change? The established visual filters co-created by art are pernicious, but Mirzoeff is careful to point out that we can't simply discard them: "the first step is to recognize how deeply embedded in our very [...] modern ways of seeing the Anthropocene-aesthetic-capitalist complex of modern visuality has become" (213). Having been exposed to many such visualizations, we have internalized their aesthetic to the point where we expect and value similar effects wherever we look. When we look at nature, we can't help seeing and expecting a Monet-like landscape. And if these images appear as paintings of the world rather than paintings of pollution, it becomes hard to identify the smog of Western cities as an unacceptable danger rather than "a positive sign of the energy and vitality of the modern metropole" (226). That is why now more than ever we need a sustained effort to develop a form of "countervisuality" (ibid.), Mirzoeff feels, which enables us to see environmental damage as well as the human and nonhuman populations made invisible by capitalism and its perhaps unexpected ally, canonical visual culture. In my view, it would not be a huge leap to conclude that images like these Dust Bowl photographs can function like the countervisuals hinted at by Mirzoeff. If the Prowers County image depicts a war, after all, it is not one the human viewer can win. Instead of celebrating a consumerist metropolis, moreover, this image captures the hard life of the rural poor systematically glossed over by hegemonic visual regimes. In the current cultural (and noncultural) climate, furthermore, this image inevitably engenders the questions about "scale framing" identified by Timothy Clark. If we invariably presuppose a particular temporal and spatial scale when thinking, reading or looking at images, the Dust Bowl photograph suggests we should expand our parameters beyond the level of quick gain, day-to-day weather, individual human needs, and should also consider slow processes of erosion as well as dramatically violent storms. But that is not to say that these images can't be used to slightly different ends, either to help rethink farming in ways that make it profitable again (and continue the work of capitalism) or to turn our attention away from the earth altogether, as the example of Interstellar suggests.
The story of Christopher Nolan's movie is simple enough; as a mysterious "blight" has wiped out almost all of humanity's crops, a pilot-turned farmer (McConaughey) is forced to go on a desperate interstellar mission to identify a more hospitable planet for a humanity on the brink of extinction. In many ways, this movie encourages us to think big and modify the scale of our habitual frame of reference. In line with claims by climate change critics like Dipesh Chakrabarty, the movie explicitly urges us to think "not as individuals but as a species", and to reflect on "our place among the stars" rather than "our place in the dirt", and in the film that means exploring other planets before the earth effectively becomes uninhabitable. Expanding the narrow spatiotemporal parameters of more traditional stories, Interstellar is hence a clear example of the cultural form that Mark McGurl and Wai Chee Dimock have called "posthuman comedy" and "low epic", respectively. Yet despite inviting us to consider the bigger picture, there is something troubling about the film's environmental politics. The desire to explore is not bad by any means, and the earth is explicitly referred to as a "perfect planet" that is impossible to replace. But in the long term, leaving this planet appears to be humanity's destiny, and the earth is therefore considered expendable – almost turning the movie into "an anti-cli-fi film", as Dimock has noted. Even more strikingly, humans are apparently not to blame for the story's global crisis. As Jonathan Nolan clarifies in an interview:
We're sort of in this moment in which humans are obsessed that we'll prove our own undoing – that we'll poison the planet, we'll destroy ourselves […]. But I thought it would be more interesting to find a slightly less personal Armageddon, or the idea that the universe obliterates you or the planet turns itself toxic because it doesn't care about you and me because we're an accident in outer space. The blight and the dust provided what I thought was a great, impersonal way for the planet to [...] gently suggest that our time here was over. That it was the moment to move on, rather than being something that we had brought on ourselves which [also] feels anthropocentric.
That the movie disconnects human behavior and environmental collapse is already suggested by its treatment of scale. If the story on the one hand urges us to think big, the love between the protagonist and his children, his young daughter especially, implies that it remains committed to the level of human drama that complicates if not compromises most representations of climate change, as Timothy Clark has argued forcefully. As far as literary texts about the Anthropocene are concerned, he observes, "the techniques available to engage a reader's immediate emotional interest emerge as most often at odds with the scale, complexity and nonhuman contexts involved". While these stories and images correctly redirect our attention "from the 'human/terrestrial' to the 'astronomical' level", they remain fatally entangled with the anthropocentric level of human emotions. And the point is not just that Nolan's movie highlights this individual dimension but gives it a quasi-metaphysical twist at the end that wraps up the story in ways that are perhaps all-too comfortable on an emotional level. For both the love of the father for his daughter and the love of one of his fellow astronauts for a deceased colleague are ultimately validated as guiding them and the entire human species toward survival. Underlining this intimate focus, the climactic scene at the end, actually taking place at the farthest reaches of the universe, zooms in on the daughter's bedroom – conveniently located in the middle of the United States. By stressing the macro-scale of the cosmos and the micro-level of the protagonist's family, furthermore, Interstellar's narrative almost completely elides the intermediate level of society and politics. Other people and social groups play a role, admittedly, and there is a chilling reference to a plan "to drop bombs from the stratosphere onto starving people", but the crucial issues are nevertheless suggested to be humanity's place in the universe and the love between individual human beings (and, I hasten to add, their anthropomorphic robots). This incomplete representation of the scalar continuum effectively enables the story to avoid talking about human society and its potential role and blame as far as the blight and dust are concerned.
The movie's politics of scale can be further clarified by considering Paul Roquet's argument about "cosmic subjectivity" in Japanese animation from the 1980s, especially the film adaptation of the classic children's tale Night on the Galactic Railroad (1985). As the following summary indicates, both the case study and Roquet's argument are linked to a particular place and time, which are very different from the ones I am considering here:
In an essay penned around the time of the film's release, Betsuyaku notes a shift in Japan in the relationship between what he describes as the subjective foreground, the things an individual can immediately touch and feel in the near distance, the background, a far-off realm connected with the world or universe as a whole often associated with transcendence, and the middle ground, or the realm of the social that mediates between the other two. For Betsuyaku, the fragmentation of Japanese society in the 1980s into […] privatized identities and the splintering of Japanese culture into various subcultures led to a weakening of the role of the middle ground. Instead, individuals increasingly sought to connect the foreground realm directly with the background, bypassing the social dimension of self. (126)
Obviously, Roquet's argument is tied to specific cultural artefacts, to the context of late twentieth-century Japanese culture and developments like "the hikikomori phenomenon" and "sekai-kei stories" (128). What is more, Night on the Galactic Railroad aims at a young audience and offers a specific take on the cosmos, as the movie infuses its large-scale perspective "with all the individual emotional inflections of a dream" (151). Bearing in mind these differences, it is still possible to link Interstellar to this analysis of "cosmic subjectivity" in works that tell "a bipolar narrative where an intensely local, personal relationship (most often a love story) is intertwined with the fate of the planet or the galaxy, often in the form of an apocalyptic crisis", while overlooking "a larger social context" (128). This link is not difficult to see, for both films use a similar visual strategy. As Roquet observes, the Japanese film spells out its reframing of identity in terms of the cosmos rather than society by highlighting scenes where the protagonist looks up at the stars: "in this simple turn from the interpersonal realm of the Earth's surface to the expansive spread of the night sky, subjectivity undergoes a quietly radical transformation" in which "[s]ocial identity falls away" (124). We find the same strategy in Interstellar, as is shown by its posters, which direct our attention heavenward through the vertical title or the cosmic gaze of the characters (and many online fan posters offer variations on this theme):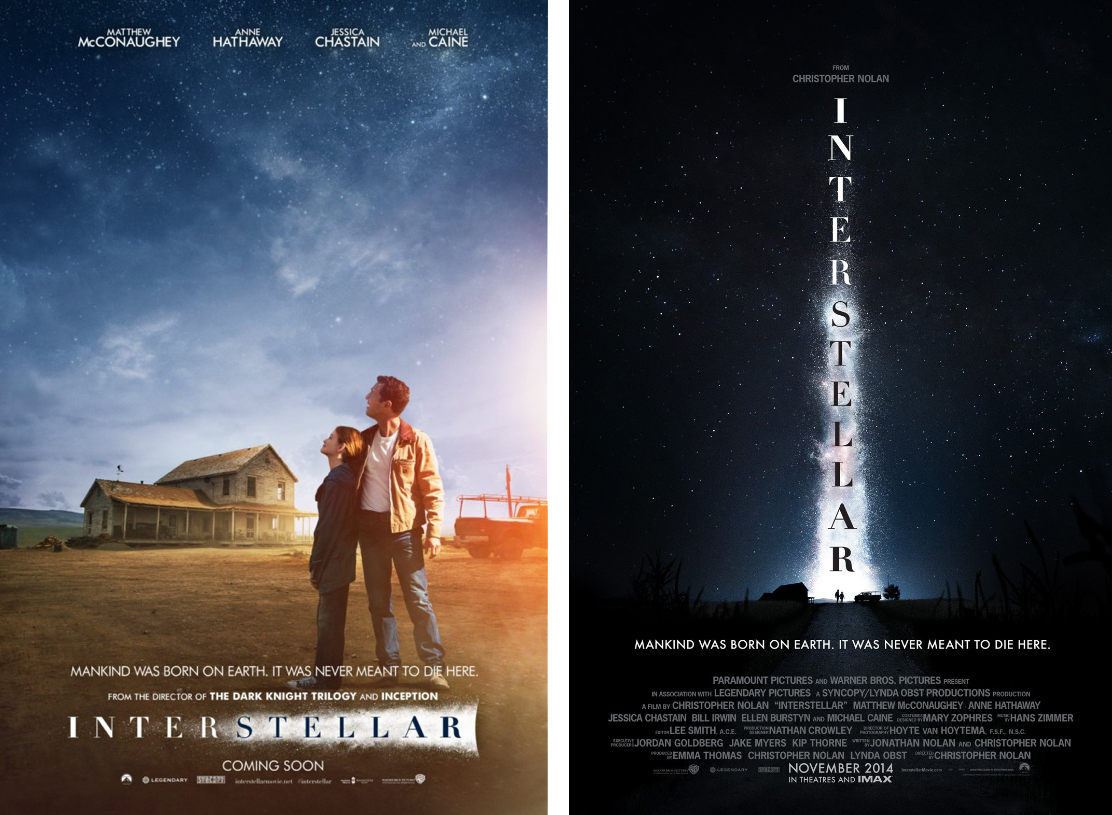 If Mirzoeff associates the Anthropocene-capitalist-aesthetic complex with the triumphant gaze of a commander who overlooks the lower-lying battlefield, these images position the human viewer as a creature who is forced to look up and to acknowledge the possibility of defeat rather than the certainty of victory. If the cosmic subjectivity of Nolan's "posthuman comedy" in that sense criticizes the hubristic mindset associated with the Anthropocene, Roquet's discussion of "cosmic subjectivity" implies that we should nevertheless recognize how the scaling up of the story's spatiotemporal coordinates creates new oversights, in particular through its elision of a social meso-scale that may precisely help us to think about the causes and consequences of a world with lots of dust and little food. This form of cosmic subjectivity is different from the one in Night on the Galactic Railroad, to be fair, seeing that Nolan's film roots it in what is seen to be a shared, planetary issue rather than a purely private problem, but Interstellar's treatment of that issue nonetheless remains remarkably circumscribed. If certain images and movies may function like countervisuals in some ways, as Mirzoeff suggests, in others they may hence continue to operate as ideological blinders that help to obscure the structural causes of environmental issues. Compare, in this respect, the posters from Interstellar with the Prowers County image. Here, the viewer is not invited to look up at the sky or at impossibly distant stars, but to face the storm directly in front of her. This image does not hint at a cosmic subjectivity but at an earthly, bounded one. This is a first good reason for looking at dust storms now.
Vibrant Photographs, Official Documents and the Great Outdoors
At least three other aspects of the Dust Bowl image require our attention, namely its ties to materiality, to documentation and to violence. To begin, take a close look at the photo, the huge storm cloud that is traveling unnaturally across the ground instead of safely through the air, the adrenaline-inducing sensation of speed and scale boosted by the fence in the foreground. And imagine the implied viewer of this scene, standing behind the camera and in front of a fence that seems woefully inadequate compared to a force of nature that is oblivious to fences, cameras and humans, and will inevitably overtake you, even if you start running now. Indeed, the first thing we might do if we were to find ourselves behind this camera is not just to consider the tip of the onrushing storm in the photograph's bottom right corner, that small section of light that is about to be extinguished, but also to examine the top left corner and to turn our heads, to see that this storm is not just rushing past in front of us, perhaps, but has also snuck up on our side and is about to envelop us in a darkness impenetrable by the photographic medium. Seeing this scene in real life, we would stop in our tracks, transfixed. The implied human viewer is therefore not unlike the fence post in the middle of the photograph, central and lit up but ultimately immobile and powerless in front of a huge and threatening storm. Take a close look, consider this tension between human inertia and cloud movement, and then answer the following question: this photograph of a dust storm, is it an image of life or an image of matter? And who is truly alive and active here, the onrushing cloud in front of the camera or the implicitly immobilized human behind it?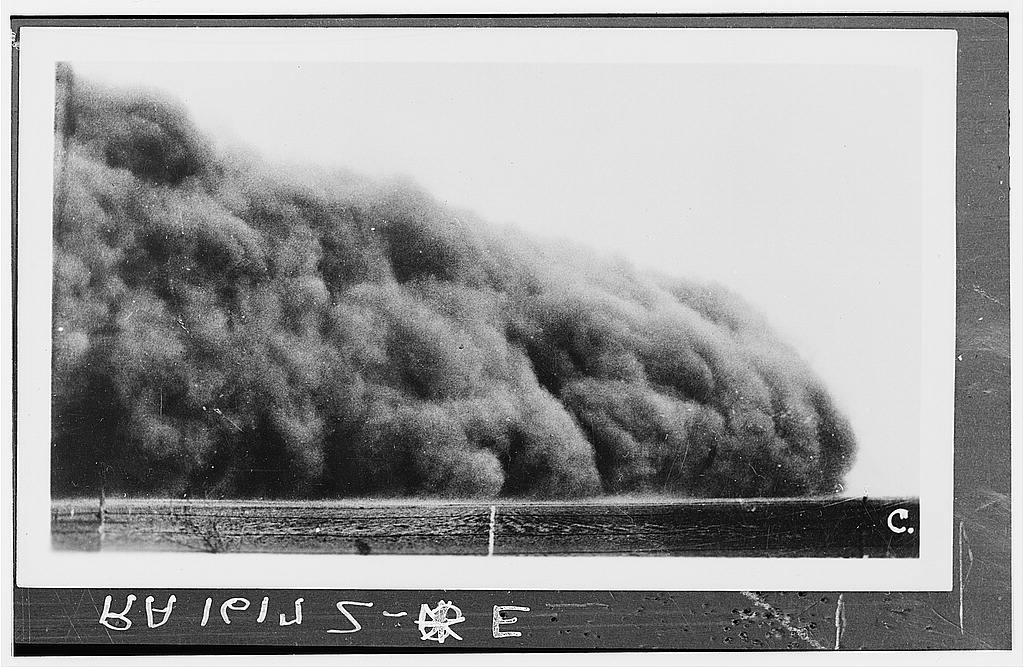 These questions are based on the work of Jane Bennett, a political theorist who, not unlike scholars such as Bruno Latour and Timothy Morton, urges us to rethink matter in an age where both small- and large-scale material processes taking place alongside as well as inside human beings are becoming increasingly prominent and problematic. The point of her project, she clarifies, is to counteract our "habit of parsing the world into dull matter (it, things) and vibrant life (us, beings)" by celebrating the hybrid notion of a living materiality. This idea not only enables us to track complex actor-networks in the vein of Latour but also promotes an ecological agenda by enriching our idea of the environment. As Bennett shows, the concept of vibrant matter "tends to horizontalize the relations between humans, biota, and abiota", avoids "a linear or deterministic causality" and captures the "'alien' quality of our own flesh" (112). By describing the weird lives of fat, litter, electricity, stem cells and other instances of vital matter, Bennett's "green materialism" aims to subvert one of the conceptual underpinnings of our planetary domination (120): "my hunch is that the image of dead or thoroughly instrumentalized matter feeds human hubris and our earth-destroying fantasies of conquest and consumption" (ix). This argument is interesting for my purposes here, not only because Bennett's discussion of a real life power blackout in 2003 provides an interesting template for thinking about the complex actor-network or 'assemblage' that was the Dust Bowl (25), with its combination of new farming techniques, unusual droughts, government initiatives, individual hardships et cetera, but also because her book suggests that one of the emblematic forms of vibrant matter is, precisely, the storm. Apart from short references to "sand storms" (107) and to "tornadoes in months and places where they had not normally occurred" (110), she points out more generally that vibrant matter is difficult to discern, seeing that it is "as much wind as thing" (119). The example returns in other definitions as well: "By vitality I mean the capacity of things – edibles, commodities, storms, metals – not only to impede or block the wills and designs of humans but also to act as quasi agents or forces with trajectories, propensities or tendencies of their own" (xiii, emphasis mine). When you look at the Prowers County image, in other words, you are looking at a prototypical case of vital materiality, a form of matter that is active and alive rather than dead and inert, and that therefore unsettles perniciously anthropocentric frameworks. Clearly, this image from the 1930s fits into these recent attempts to rethink our idea of the environment. You might call it a vibrant photograph.
But there is yet another reason why it's worth looking at this Dust Bowl photograph now, one which is tied to the letter along the bottom of the original image as well as the symbols below that – indications that this is neither a real storm nor an individual image awaiting our aesthetic gaze but just one part of a larger photography project that aimed to assist policy makers by exhaustively documenting this crisis, a typical form of "slow violence" both in the sense that these storms represent(ed) an ongoing problem rather than a singular apocalypse and that they disproportionately affected the poor rather than the well-off. These symbols imply that the image is part of what Mark Seltzer has called the "official world", and his work is relevant here both for its analysis of officialism and its account of our desire for what he calls "news from the outside". Applying systems theory to phenomena like the Berlin Wall, zombie culture and World of Warcraft as well as to literary works by Agatha Christie, J.G. Ballard, Tom McCarthy and Patricia Highsmith, among others, Seltzer describes how modern societies are characterized by functional differentiation (the creation and comparison of various "small worlds"), incessant self-reflexivity (so that everything needs to be reported on) and a "media union" that incessantly coordinates these worlds and reports. This modern world reveals an "administrative a priori" (12) or "bureaucratic a priori" (83), as it is made up of particular types of spaces, characters, emotions and forms. Consuming the cultural artefacts of this self-reporting world, we systematically come across small-scale models of society, navigate the media that transport self-describing bodies and messages and witness moments where the social bond breaks down, be that via social embarrassment, inattentive mindlessness or direct violence. What is more, we often find ourselves in labs, schools, trains, airports, hospitals, parking zones, art museums, crime scenes and "space capsules" (48) where we encounter reporters, planners, office workers, medical officers, "pilots and astronauts" or other professionals (39), and come across recurring forms and genres including maps, charts, diagrams, files, manuals, bills, memos, aerial surveys, loyalty cards, "pictures […] and, of course, lists' (143). By drawing our attention to these forms, artistic works like the novel hence demonstrate how such techniques have spread "from the microtheater of the office to the macrotheater […] of the official world" (69). Ours is the society of "the mobile office" (138), in which we appear to live and record that life at the same time, as if we inhabit "movies without cameras" (79). Seltzer's account reminds us that the Prowers County image is part of a larger government project that tried to document and record a particularly troubling reality but also that this project illustrates modern society's relentless drive to map, file and contemplate every aspect of life (this article being yet another illustration of that drive, obviously). Seltzer's analysis also draws our attention to several aspects of Interstellar: its attention to the maps, displays and equations that govern the microsociety of the space capsule, the fact that data and records of various types prove crucial to the plot and even the survival of mankind and the life-size model of Cooper's home at the end of the film, not to mention the two items the film keeps returning to, the watch and notebook Murphy uses to record and communicate with the strange gravitational anomaly in her bedroom. Like Sanora Babb's Dust Bowl novel, then, Interstellar suggests that we make sense of weird phenomena like dust storms and poltergeists by documenting them religiously – like the dutiful office workers that we are.
But these traces of officialism are not the sole reason why Seltzer's work is pertinent here. For the official world, as systems theory stipulates, not only establishes distinctions between its different small worlds or between official reality and various forms of fiction but also between the social world and its outside – and one of the forms this great outdoors takes right now, Seltzer argues, is the idea of the Anthropocene, a self-reflexive term if ever there was one. As every system needs a limit, contemporary society continually asks itself one question: "What is 'outside' the official world?" (9). So we actually live in a bipolar world: our climate-controlled indoor social life on the one hand and the alien outdoors on the other: "the world is […] tensed between the systems-internal one-world state of the overforeseen life, and an alien-natural grandeur experienced as transcendence or a dissolving […] in totality" (197). Reformulated once more: on one side we find administration, on the other we face extinction. And we pay to experience fantasies of self-extinction, Seltzer argues, because we are fed up with the self-reference of the official world, the limitations of "life in recordable format" (144). He interprets the desire to break with correlationism in so-called speculative realism, for instance, as "a breakout from the prison house of […] a world relative to its observation, and correlative to the human measure" or, in other words, as a "turn […] from an indoor social life to the great outdoors" (167). And it would not be hard to interpret both the Prowers County image and Nolan's movie in terms of this desire to acquire "news from the outside", an outside that is either a storm of inhuman size that is set to transgress the human enclosure marked by a fence, an enigmatic gravity ghost that is trying to communicate via dust or the truly outdoor world of the universe, indeed the very outer limit of the outside which is the black hole.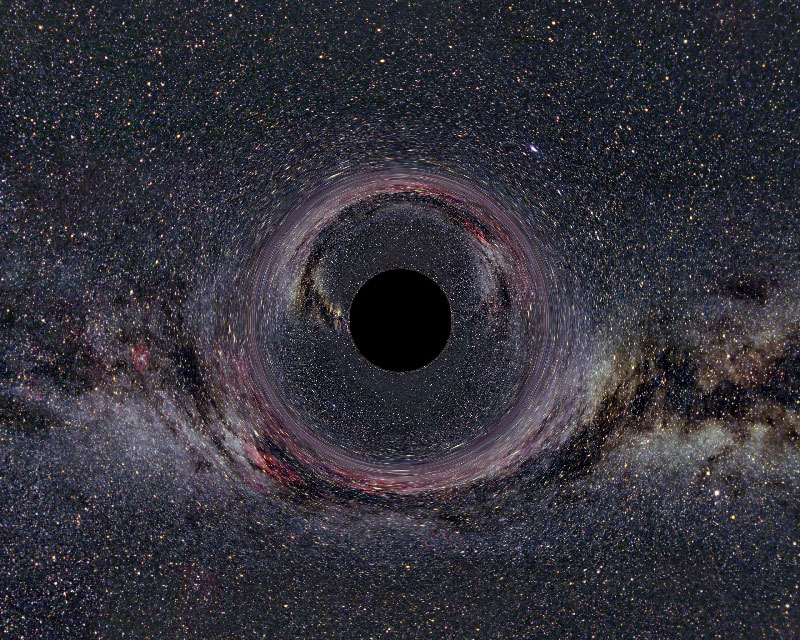 But Seltzer adds an important qualification to this desire for the outside world. He seems to agree "that there are certain things in the world that can't be correlated with persons and with the human measure" (188), a zone we might call the "unreported world" (176) or the "unobservable world" (190). But it has become increasingly difficult to imagine what that looks like, he adds. This should come as no surprise, because the official world patrols its borders relentlessly in its attempt to turn the outside world into "indoors affairs" (21). As Seltzer puts it, in a formulation that in this context can't help but recall the Dust Bowl: "[t]he official world is of necessity always patrolling the dikes of made culture, and in doing so, managing the catastrophes their construction sets in motion" (28). Even "the outside world" therefore starts to look like the official world (84), and singing birds, for instance, become signs not of the great outdoors but of a self-responding "twittering world" (73). As far as recent attempts to move beyond the scale of the human are concerned, these are perhaps not "a break with correlationism or perspectivism […] in that scale – scaling down and up, like a continuous rotation of aspects – is instead something like its motorization" (255). Thinking in very big or very small terms may be less an escape from the human perspective than its multiplication, an unwittingly anthropocentric colonization of a scalar spectrum that only humans and their technical media can navigate so smoothly. Applying these lessons to Interstellar is not difficult. For the movie takes us into the heart of a black hole, the outer limit of the outside world, in a surprisingly self-confident manner, and its mysterious alien presence turns out to be shockingly familiar. For the poltergeists writing in the dust, directing Cooper away from home and back again, turn out to be humans from the future – meaning that the great outdoors at the edge of reality ultimately reflects our own faces back at us. So much for trying to escape from our self-reporting world – as Cooper finds out at the end, when the future is explained to him by a character the screenplay calls, simply and aptly, "administrator". Turning to the Prowers County image, this example of countervisuality may capture the idea of vibrant matter, but it remains tied to the human world, not just because it was part of an official government project – hence the symbols – but also because it remains tied to the height and perspective of the camera's human operator, not to mention its preoccupation with that part of the electromagnetic spectrum that is visible to the human eye.
And precisely because it is so difficult to see what is truly outside of everything, Seltzer concludes, we are in love with the idea of our imminent destruction and watch movies about extinction, look at old photographs about past brushes with the outside and write reports on those reports about the unreported world. Living in our airconditioned world, we imagine that only the "torn world" can be an index of the real (172), that the only "antidote" to "relentless reflexivity" can be "explosive violence" (176). Dust storms and the idea of the Anthropocene more generally appeal to us because their implicit violence promises to restore a raw authenticity felt to be lacking in our administered lives. But that violence is far from innocent, and we should hence be wary of the "anthropocenic" quality of the images we have been examining (178). A final reason for looking at dust storms is therefore that this may help us to think more critically about these spectacular pleasures. Not that there is anything new about reporting on the great outdoors in a self-reflexive manner, and enjoying that. Just consider the note-taking character from Babb's novel about the Dust Bowl: "She read her description of the first storm and felt frightened again, and pleased with herself".
Notes