a
clustered

|

unclustered
Pictorial Echoes of Love, Grief and Status. The Iconographical Importance of the Ever-Present Bracelet of Queen Louise-Marie d'Orléans
Charlotte Vanhoubroeck
Wavering oval miniature portraits, brilliantly wreathed, embrace a soft woman's arm. Quietly, they seem no more than an illustrious detail in her portraits, but once noticed and rhythmically exposed next to each other, the depictions of this peculiar bracelet seem to demand attention. The wearer of the piece(s) is Louise-Marie d'Orléans, first queen of the Belgians (1812 – 1850). A somewhat forgotten queen who, during her life in Belgium, tempered her feelings of melancholy with the comforting power of what is often called sentimental jewellery. These treasures encapsulated miniature portraits, eye miniatures, human locks of hair, engraved names, dates or messages; they commemorated loved ones and memorable moments. According to her Estate Inventory, Louise owned more than a hundred sentimental pieces of jewellery. Almost all of these pieces got lost and dispersed through series of inheritances, causing a gaping lack of visual information about Louise's sentimental jewellery. Fortunately, there are a few remaining portraits in which Louise adorns herself with a heavy miniature bracelet. Does it always concern the same piece of jewellery, or are they all different bracelets? And what do these arm pieces reveal? A declaration of love? A display of status or prestige? Do each of these surviving portraits depict a scene of mourning? Or are we witnessing nothing more than a random, romantic fashion fad?
Creating the bracelet(s)
Several contemporaneous artists laid eyes on the real bracelet(s). Especially the well-known portrait painters Nicaise De Keyser (fig. 1), Franz Xaver Winterhalter (fig. 4) and Fanny Geefs (fig. 2), who have painted some of Louise's state portraits, were able to admire her and her jewellery up close during the posing sessions. In these portraits Louise had to radiate the serene and dignified aura of a queen. The use of light and colour, the correct – yet slightly idealised – physical likeness, the overall composition, ... were all carefully considered. Also renowned printmakers, such as Eugène Van Maldeghem, Charles Billoin and Henri Grèvedon have depicted the queen with her bracelet (fig. 3). These portraits always show Louise from a three-quarter viewpoint, mostly with her arms crossed over her stomach and with a timid yet direct look in her eyes. Prints could easily be duplicated and distributed and were therefore made for the general public.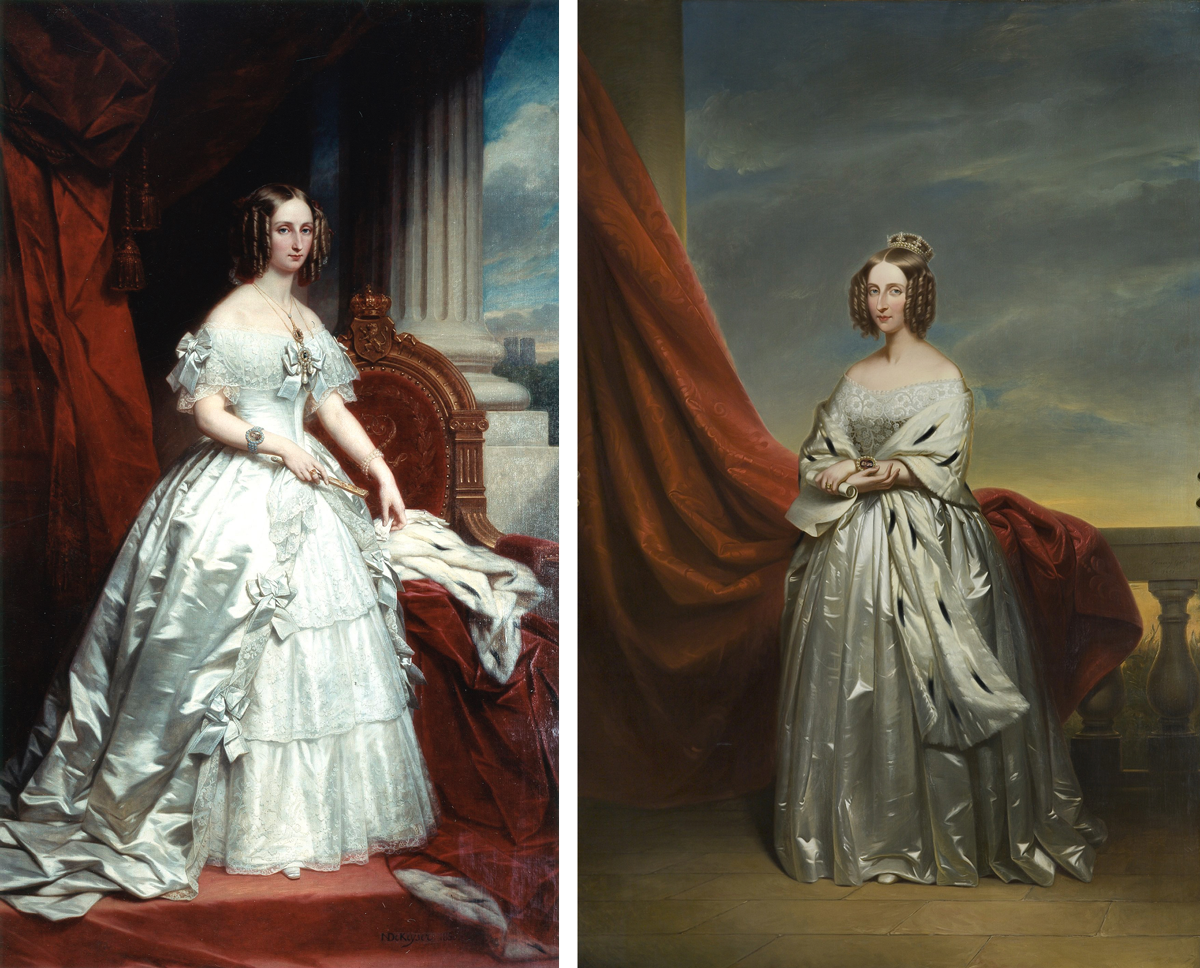 The series of bracelet scenes shows us how some of the artists chose to depict the miniature portrait with clear precision, and how others preferred to mysteriously display an abstract silhouette or even veil the complete miniature in a haze. Some artists surrounded the miniature with rows of silky pearls, others with shiny (semi-)precious stones set in metal. Sometimes, the piece seems to be dangling smoothly around the arm; in other scenes, the bracelet appears to be a static, unmovable chunk of metal around the wrist. The bracelet is always the same, yet it is not. Subtle differences in representation provide the captive viewer with a new jewellery piece over and over again. These minor differences shouldn't come as too much of a surprise, since, of course, every artist interpreted these particular features in ways that fitted their style. Especially the printmakers frequently gave free reign to their imagination when shaping luxurious details. Often, they didn't even get to physically observe the queen – and thus also her jewellery – and had to base their portraits on already existing images. What we get, then, is an interplay of repetition and variation. Sometimes, however, there seems to be some indication that, maybe, not every bracelet is the same in this series of scenes. This will become clear further on.
Love or grief?
Who is depicted on the bracelet's miniature portrait? Some artists created a sumptuous piece of jewellery, but didn't pay attention to who was depicted. The place where the portrait should be was often filled in with a hesitant blur, or mysteriously concealed behind a fan, under some velvet or lace. Was it because, to the artists, the little portrait appeared to be no more than a trivial detail? Or would they, maybe, rather not disturb the sentimental content of the piece too much?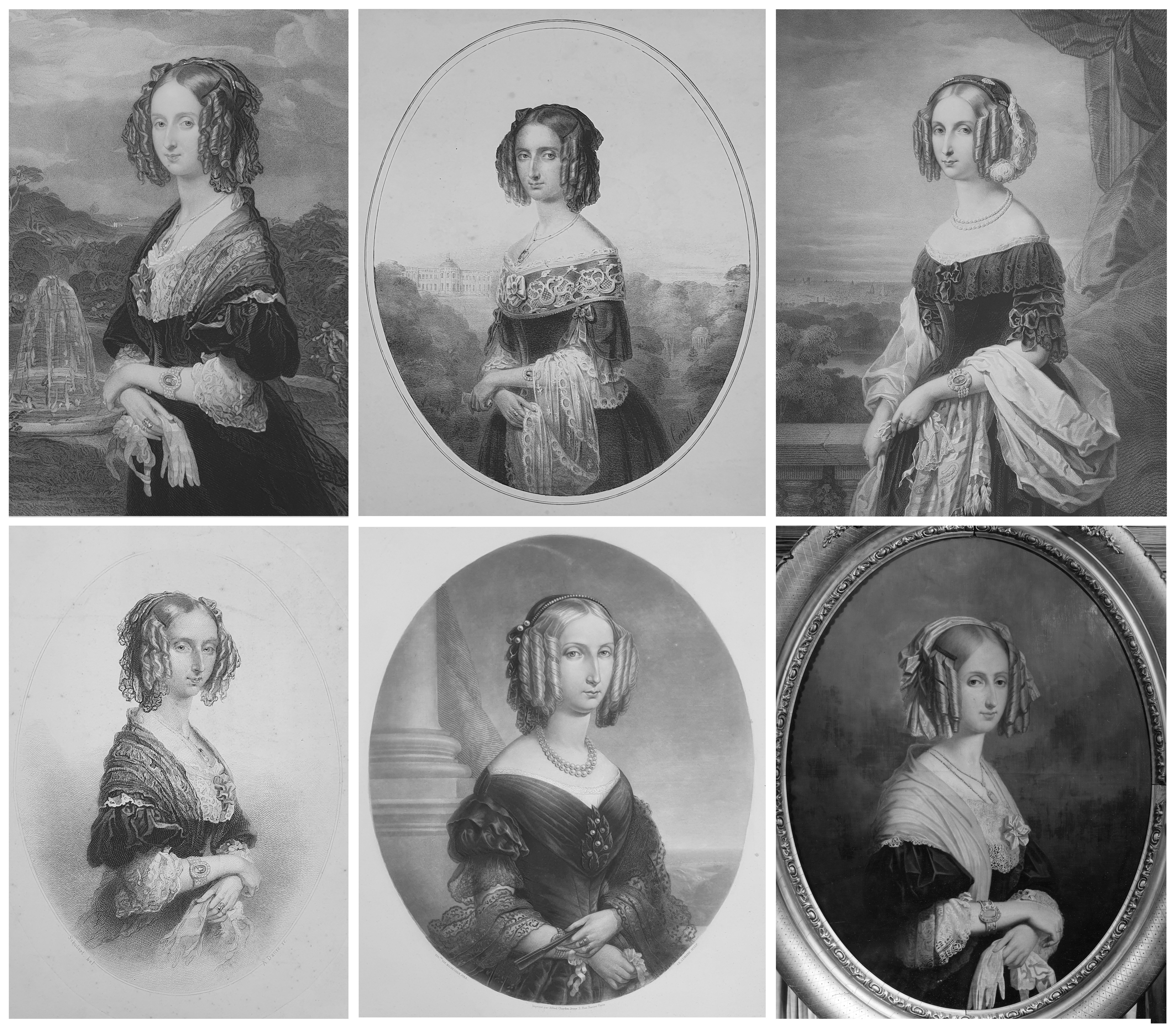 All in all, five artists did provide the bracelet with a clear miniature portrait and confidently painted a small but noble dark-haired King Leopold I in the oval. This raises the question if the gem was a declaration of love from a king to his queen. Louise's official Estate Inventory lists eight pieces of jewellery that refer to Leopold. The fourth piece in the list resembles the bracelet in the portraits quite closely. It is described as follows: "Un bracelet avec le portrait du Roi, entouré de brillants, tour de bras avec modèle gourmette avec chaînon en brillants." ("A bracelet with the portrait of the King, surrounded by brilliants, arm band in 'gourmette' style with brilliant links."). The portrait and the diamonds turn the piece into a precious, heavy bracelet. Yet it is also a flexible piece, since a 'gourmette', a type of chain, can move smoothly around the arm. Description N° 113 also attracts the attention: "Un médaillon formé du portrait de Sa Majesté Le Roi Léopold, entouré de dix huit brillants avec un anneau orné de cinq brillants plus petits." ("A medallion with the portrait of His Majesty King Leopold, surrounded by eighteen brilliants with a band decorated with five smaller brilliants."). This piece concerns an impressive diamond medallion which shows Leopold's portrait and which can also be attached to a golden bracelet set with diamonds. At the time it was sometimes the case that a medallion was a separate element that could be mounted into several types of jewellery pieces, which is why N° 113 should be taken into consideration as well.
Could the bracelet depicted on Louise's portraits be one of these two bracelets, N° 4 or N° 113? And could one of these two pieces maybe even be the medallion that Leopold gave to Louise on their wedding day? Both Inventory descriptions resemble this iconic wedding gift quite well, a gift which is discussed in several sources. For instance, in 2001 Marguerite Coppens published an extract from the diary of Marie-Amélie, Queen of France and mother of Louise, in which she reports about her daughter's wedding day. Among other things, she briefly describes the toilet ritual: "Elle a revêtu une magnifique robe en point d'Angleterre que lui avait offert Léopold, le collier, les pendants d'oreille et le médaillon entouré de brillants étaient également des présents de son fiancé." ("She wore a magnificent dress in 'point d'Angleterre' that had been given to her by Leopold, the necklace, the earrings and the medallion surrounded by brilliants were also gifts from her fiancé."). In Louise's biographies written by Mia Kerckvoorde in 1988 and Madeleine Lassère in 2006, the same diary fragment is mentioned. Was this wedding present from Leopold an honest act of love? Or a somewhat uncomfortable formality? As was often the case in royal and noble circles, Leopold and Louise did not marry for love. In the same diary fragment, Queen Marie-Amélie notes how miserably pale and inconsolable her daughter was on the day of her wedding. Transitional events such as 19th-century royal weddings were often unsettling, and the opulent rituals of the bridal attire served to distract the wife-to-be from her impending marriage duties and the departure from her familiar home. The jewellery given by Leopold thus transformed Louise (literally) into a radiant bride, but at the time it barely held any genuine love sentiment. Yet one could wonder – would love have blossomed between the two later on? When Kerckvoorde later in her biography reports on Louise's far too early death, the medallion is mentioned a second time. This time, however, the piece enters the scene in a different way: "Als hij [Leopold] later kennis zal nemen van haar testament, zal hij pijnlijk geschokt zijn. […] Ze gelooft dat hij zal hertrouwen, en het trouwcadeau dat hij haar destijds schonk, zijn portret in miniatuur, omringd door diamanten, maakt ze over aan zijn toekomstige echtgenote: 'Als een pand voor het geluk dat zij ze beiden, nog vele jaren, van harte toewenst'." ("When he [Leopold] will come to learn of her will later on, he will be painfully shocked. [...] She believes he will remarry, and the wedding gift he gave her at the time, his portrait in miniature, surrounded by diamonds, she passes on to his future wife: 'As a pledge for the happiness she wholeheartedly wishes them both, for many years to come'."). In time, it appears, Louise learned to love Leopold, albeit driven by feelings of duty rather than passion. Leopold's miniature portrait – the miniature depicted in many of the bracelet scenes? – thus gradually acquired sincere sentimental value and eventually even made its way into her final will.
The bracelet scenes that include Leopold's portrait could thus possibly allude to Louise's love for Leopold. The depicted piece could be N° 4 or N° 113 in the Estate Inventory, of which one could maybe even be the wedding gift. However, one scene in the series of bracelet depictions – the bracelet painted by Winterhalter (fig. 4) – seems to suggest other bracelets are involved. Winterhalter didn't portray Leopold in the bracelet, but someone else. The depicted person is a young, light-haired child. Several sources assume the child is Louise's first son Louis-Philippe, Belgium's very first crown prince. The boy unfortunately did not live to see his first birthday and left Louise in deep mourning. A miniature portrait of this prince would suddenly transform the bracelet into a grim mourning piece. The Estate Inventory informs us that Louise had some portrait jewellery of her children. One specific description catches the eye: "N° 54: Un bracelet en chaînes, tressée en or, avec le portrait du Prince Royal défunt." ("N° 54: A bracelet, braided in golden chains, with the portrait of the deceased crown prince."). Here a bracelet is mentioned with the portrait of the deceased – 'défunt' – crown prince. Might Louise have worn this bracelet, N° 54, during her posing sessions with Winterhalter? Did she, maybe, want to commemorate her deceased first son on her portrait? However, the rest of the description is a bit more difficult to align with Winterhalter's bracelet. There is no mention of the colourful stones, which are probably turquoises, and furthermore N° 54 mainly consisted of golden chain work. The existence of the bracelet painted by Winterhalter is therefore difficult to demonstrate.
Yet, when we bring in a copy of this painting, also painted by Winterhalter, a new scenario presents itself (fig. 5). This painting was commissioned by Queen Victoria and is a three-quarter-length version of Winterhalter's full-length portrait of Louise (fig. 4). Altering the canvas size necessitated Winterhalter to rethink the composition of the portrait. Louise's left hand would no longer hold a fan – the fan would fall out of frame – but would this time rest on a piece of furniture. Louise's lace shawl, which Winterhalter had draped around her arm in the full-length portrait, was now also positioned on this piece of furniture. These compositional choices exposed Louise's left arm, on which, suddenly, a second bracelet appears.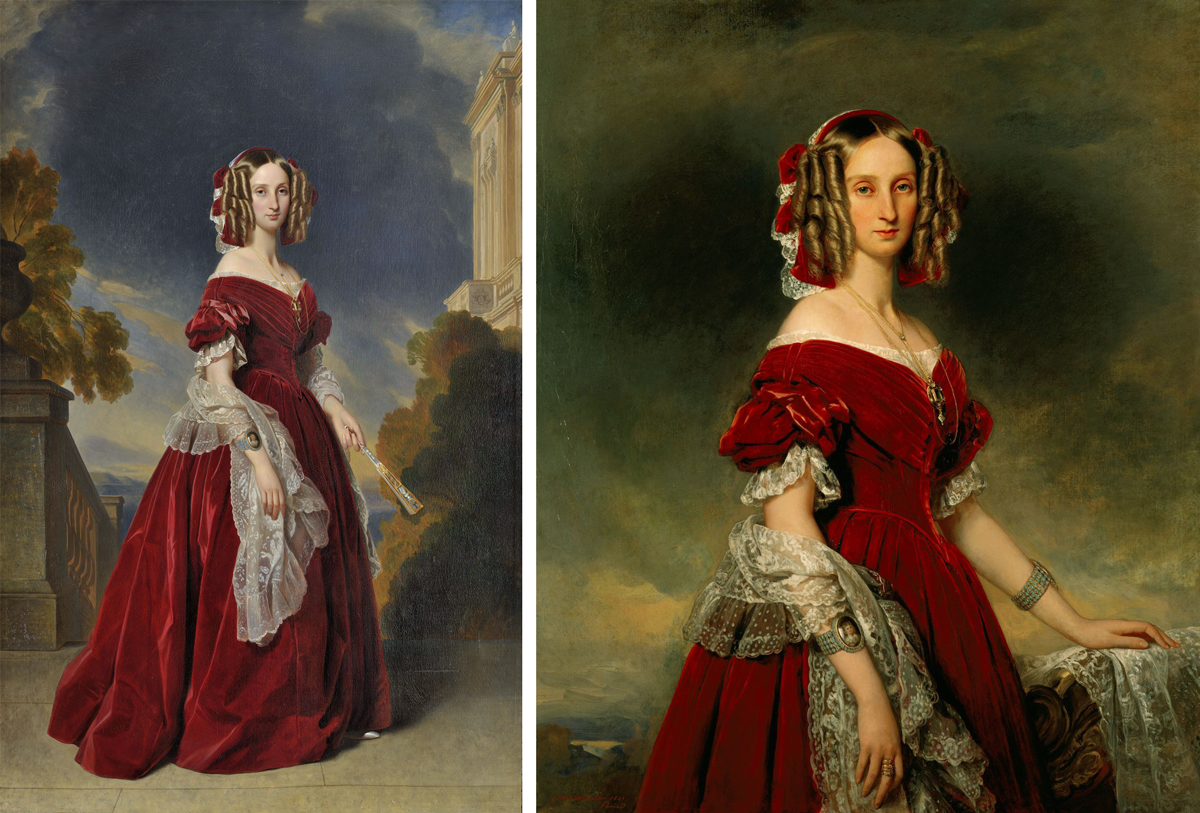 Would Winterhalter have made up this second bracelet, in order to rebalance the composition? Or could this bracelet always have been there, tucked away underneath the lace? This line of thinking brings us to N° 152 in Louise's Estate Inventory: "Une paire de bracelets formée de quatre rangs de turquoises, avec deux portraits du Roi, peints sur émail entourée de turquoises, l'un de ces portraits représente le Roi dans son enfance, l'autre en costume de chevalier." ("A pair of bracelets consisting of four rows of turquoises, with two portraits of the King, painted on enamel surrounded by turquoises, one of these portraits depicts the King in his childhood, the other in a knight's costume."). Could Winterhalter have depicted this duo of turquoise bracelets? Indeed, this description matches the depicted bracelets surprisingly well. Both pieces consist of turquoises and carry miniature portraits of Leopold – one when he was a boy, and one when he is wearing a knight's costume. Could the little child on Louise's right wrist be this young Leopold, and not – as stated by the sources – her son Louis-Philippe? The infant shown in the portrait looks considerably older than a baby of a few months. However, in that case we would also have to assume that the dark-haired King Leopold I was very blond as a young boy. And we also have to ask ourselves why Louise would suddenly choose to pose with a childhood portrait of her own husband? A depiction of her son Louis-Philippe would make more sense, Louise being the grieving mother and therefore also the representation of the grieving state. Could the wayward Winterhalter, while painting Louise's miniature bracelet, have allowed himself some artistic liberties, possibly even at Louise's request? Could he, in this one bracelet scene, have changed the miniature portrait, or could he even have mixed up several of Louise's jewellery pieces, to present a more convincing and distinctive jewellery piece?
Underneath the glamour
Apart from Winterhalter's bracelet, all the bracelet scenes that allow for the image to be deciphered display primarily Leopold's miniature. Of all the sentimental pieces described in the Inventory, why is Leopold's miniature the one to feature in so many of Louise's portraits? Simply because of its alleged sentimental value? Unfortunately, it seems, it's not about love.
A further look at the Estate Inventory brings the valuations of the jewellery pieces into focus. Each description is accompanied by a number, an estimated price in French francs, a numerical factor that turns each piece into a relative, measurable subject. It is striking that the sentimental pieces of jewellery were considered to be worth less than the non-sentimental ones. On average, a sentimental piece of jewellery was valued at 336.10 francs, whereas a non-sentimental piece would have been worth an impressive 3,281.17 francs – so almost ten times higher. It is noteworthy that the jewellery commemorating Leopold made up the most expensive sentimental pieces and significantly exceeded the average. N° 4, for example, was estimated at 1,950.00 francs, and N° 113 was even worth 18,000.00 francs. Was the memory of a king worth more? Or did only the diamonds of these pieces cause its value to rise? Louise, a child of the modest French July monarchy, was not the kind of woman who sought her fortune in noble splendour. She considered diamonds to be no more than broken glass and thought it was absurd to spend a lot of money on them. Flaunting her possessions was not part of her nature. Yet, on the portraits in her honour, a Leopold, wreathed in diamonds, literally claimed the centre stage. Through the bracelet, he's the one showing off, shining brightly and in that way reminding the viewer of his kingship. This is not something you see Louise's other sentimental jewellery pieces do. For instance, Louise had at least as many, if not more, pieces that commemorated Queen Victoria, but in none of her portraits was the English queen represented. After all, through the exchange of sentimental jewellery, Victoria never presented herself as a fellow queen. By giving Louise sentimental treasures, she simply acted as a kind companion and reminded Louise of her friendship.
Leopold's ongoing presence in miniature thus may seem sentimental at first, but in fact he was performing no more than a political, status-affirming stunt. After all, Louise was portrayed in a very well-considered way. She was the first queen of the Belgians and through her appearance she contributed to the identity formation of a still young and insecure nation. The Belgian monarchy was trying to align itself with the other Western European royal houses, which, in these tense, post-revolutionary times, wanted to distance themselves from the 18th-century power abuses and its derailed aristocratic decadence. In the 19th century, new middle-class values prevailed, and "[m]arriage and family were among the cornerstones of [the middle-class] conception of society, or more precisely were [its] natural preconditions." The royal houses embraced this mindset and reformed themselves, which led to the reinvention of the monarchy. The monarchy became a fully politically domesticated institution, in which women were often deployed as instruments of legitimation. "[The queen] acts as the nation's motherly sovereign and a supportive and caring companion to the king, consistently positioned at his side and reflecting his views." The motherly ideal of the queen was already carried out by Louise's mother, Queen Marie-Amélie. Marie-Amélie's husband Louis-Philippe, Duc d'Orléans, rose to the French throne following the July Revolution. He was known as the 'Bourgeois King' or the 'Citizen King', and Marie-Amélie assumed the role of 'an ideal Bourgeois Queen'. In fact, "her apolitical public image was a conscious construction, designed to emphasise that the role of a queen was simply to be the king's spouse." In the same way, Louise's queenship was constructed. Just like her mother, she was presented as a pious woman who devoted herself to her children, charity, religious activities, and who refrained from political comments. Portraiture was used to enforce this political image building. In this way, both on the state portraits and the printed portraits, Louise's royal status was intensified via the display of her marital status. And what eye-catching element could communicate this marital status better than a brilliantly wreathed miniature portrait of her spouse, who was also her king?
An eternal echoe
The quest for the true identity of this jewellery piece moves along, between image, word and sentiment. Numerous depictions of Louise show (versions of) the piece and please the viewer's eye with its beauty. The bracelet cautiously reveals itself in Louise's Estate Inventory, her final will as well as a few intimate diary fragments. In whatever capacity the piece exposes itself – visual or linguistic –, it always arouses (a suggestion of) a sentiment. Of hesitant love, of mutual respect, even of silent mourning. Yet, despite its numerous depictions and representations, the true form and intention of the piece remain veiled in uncertainty.
What did become clear was that the bracelet(s), especially the ones that portrayed Leopold, were given a role in the political imagining of Queen Louise-Marie d'Orléans. She wore the piece in her state portraits, portraits that adorned the long galleries in the royal palaces and impressed their visitors with immortal depictions of their queen. She wore the piece in countless series of prints, prints that portrayed her as a benevolent, angelic Mother of Belgium and were made to charm the people. Almost every time, this earnest looking Leopold, surrounded by expensive stones, felt the need to penetrate his wife's portrait. His small, yet radiant presence, furthermore described as exceptionally valuable by the Inventory, was meant to reinforce Louise's marital status and thus also her (and therefore his own) royal status.
In this way, over time, the bracelet evolved into an established value in Louise's portrayals. The piece became an eternal ornament, a symbol rather than a real piece, an abstract, platonic archetype released from its true self. A shimmering echo. Through her portraits, the Belgian court and the entire population grew familiar with this piece. So familiar, in fact, that a mere depiction of just the stone-encrusted frame alone was already sufficient to direct the viewer's mind away from Louise and back to the majestic King Leopold I.
Notes