a
clustered

|

unclustered
Patriotism as Last Refuge? A Response to Martin Parr's Think of England in Brexit times
Janine Hauthal
In the summer of 1998, 18 years before a slight majority of the British voted to leave the European Union, celebrated British photographer Martin Parr travelled around England, armed with a camera, seeking to define Englishness by encountering the nation's people. His journey resulted in the 49-minute documentary Think of England, produced by Mosaic Films and shown as part of the BBC's Modern Times series (27 April 1999). Throughout the film, we repeatedly hear Parr asking his interviewees how they define Englishness, what it means to be English, and whether they think that there is a difference between Britishness and Englishness. It is hardly surprising for such spontaneous chance encounters that the answers Parr receives often start with a baffled silence or slightly ashamed "I don't know" (01:35-02:07) before the interviewees resort to one or other national and often also gendered cliché to typify themselves as English. A woman in a shop in Liverpool, for instance, laughingly describes herself as an "English rose" (36:17), while some well-off gentlemen at Henley suggest that Englishness means "doing all the right things" (03:10) or "knowing how to behave" (04:10). Other answers echo the infamous 'Britain first', recently revived in Brexit campaigns, as evidenced by the Rolls-Royce owner who demands that one sticks to what's genuine, i.e. that one should not allow German motors in British cars (cf. 5:00-5:28). Some interviewees, such as the old man and his son eating a sandwich in a car in a motorway service area (16:50-18:52), refer to Enoch Powell and reveal openly xenophobic 'send them back'-attitudes, which contrast sharply with the female walker who accepts Britain's multicultural society with open arms (18:58-19:40).
British Euroscepticism: Defining Englishness
The initially unknowing reactions to Parr's questions echo statements like that of historian Bill Schwarz, who described Englishness as "an indefinable matter of being, incapable of systematic explanation". Or, they may illustrate the often-quoted dictum of sociologist and cultural theorist Stuart Hall, who wrote in 1991: "To be English is to know yourself in relation to the French, and the hot-blooded Mediterraneans, and the passionate, traumatized Russian soul. You go round the entire globe: when you know what everybody else is, then you are what they are not."
Strikingly, the people in front of Parr's camera frequently express a reluctance to leave their island. The majority prefers to holiday in Britain and defy the bad weather (and this is just one of several instances where the documentary foregrounds facets of Englishness that have become a cliché). As the couple in the Bed & Breakfast in Weymouth enjoying their Sunday roast confesses: neither have they ever been abroad nor are they curious to go there in the future; they prefer their "good old English food that doesn't upset your stomach" (16:54). Or as the man renting out trampolines to children at the seaside puts it: Spain to him equals sleepless nights and food poisoning (cf. 30:00-31:58).
Indeed, as European Studies scholar Menno Spiering argues, British Euroscepticism differs from that of other EU countries in that it is characterised by a strong cultural component and rests on the long-established tradition of contrasting the British Self with the European Other. According to Spiering, British Euroscepticism therefore encompasses more than a rejection of EU regulations and the 'dictates of Brussels'; it is not just about the EU, it is about feeling deeply un-European.
Perceptions of identity are formed by means of oppositional thinking, by contrasting the Self with the Other. The British are not French, the French are not German. The case of Britain is special in that the Other can also be Europe. The Europeans are either viewed en masse as non-British, or one nation is made to represent Europe as a whole.
Hence, while Euroscepticism is part of a wider set of dynamics across Europe, British Euroscepticism is largely defined by cultural exceptionalism and, as such, it becomes an expression of national identity. In other words, opposing Europe contributes to the formation of British national identity.
Curiously – given Spiering's remarks –, in her Conservative conference speech from 5 October 2016, then British Prime Minister Theresa May did not exploit British Euroscepticism in order to promote her narrative of a new united Britain. Instead of contrasting the British Self with a European Other, May's argument was directed inward and focussed on the call for change within British society and democracy. Hence, even though British Euroscepticism draws attention to Europe's continuing significance as 'Other' in Britain's national narrative, its explicatory potential for the 'Brexit vote' is clearly limited. Thus, instead of looking across the Channel and reflecting on Britain's relationship with Europe, it may be more constructive for an understanding of the Brexit vote to look inside, look back and 'think of England', just like Parr's documentary suggests, and try to trace the possible roots of contemporary sentiments.
Fissures across England, 1999/2016
When looking at Parr's film from the perspective of our Brexit times, one of its most striking aspects is that, on the whole, people are remarkably optimistic, happy and proud – which contrasts sharply with the feelings of anger, frustration, and depression that both Leavers and Remainers voiced before and after the referendum. In the documentary, one interviewee ascribes this general optimism to Labour's victory: In the year before Parr shot his documentary, Tony Blair's New Labour had won the elections (06:11-07:06), and that political landslide was followed by a period of increased pride in the culture of the UK, culminating in what is often referred to as "Cool Britannia". While the phrase is a pun on the title of the patriotic British song "Rule Britannia", "Cool Britannia" is connected with youth culture, namely the success of Britpop and musical acts including the Spice Girls, Blur and Oasis but also that of fashion designers and London's booming house scene. Parr, however, shot most of his documentary outside of London, in more provincial locations, including Whitchurch (on the Northern border to Wales), the seaside town of Weymouth (in Dorset in the South), Bristol (Parr's hometown), and Blackpool (in the North-West). Maybe it is by focussing on these more peripheral locations that some fissures – including class divisions, geographical differences (North – South, urban – rural areas), economic decline, decrease of social cohesion – can be felt in Parr's film despite its overall humorous tone and feel-good attitude. In the following, I will identify four aspects which anticipate, or point to, fissures, and explore their continuities with the debates surrounding the Brexit vote.
First of all, the documentary thematizes class differences, as can be seen early on. The film begins with a shot that zooms into a pub where a crowd watches a football match, cheering ecstatically when their team wins (00:00-00:28). The cheering can already be heard in the deserted street that first comes into view. A few minutes further into the film, Parr is talking to representatives of the British upper class who explicitly and repeatedly exclude hooliganism and football-fandom from their definitions of Englishness (03:08; 03:53). Hence, the documentary draws attention to oppositional stances that reflect the British class system through the technique of juxtaposition. Indeed, class differences also played a role in the debates surrounding Brexit, for instance, in Farage's anti-establishment campaign and in May's condemnation of "citizens of nowhere" and her attempts to fashion herself as a spokesperson for "the people".
Secondly, the documentary also reveals inner-British divisions. In the section filmed in the North, regional differences between North and South are evoked by the man in the pub who claims that "as a race, we in the North are far more superior [sic] to the English we see in the South" but eventually admits the Henley couple he met on holiday the other day turned out to be "great people" (37:40-38:48). In addition, the scene, in which a group of youths complains that they have nowhere to hang out after the last café in town closed (26:30-27:29), hints at the differences between metropolitan urban and rural areas in decline – a difference that is also reflected in the regional divisions in the Brexit vote.
Thirdly, in spite of the pervasive cheerfulness of the documentary, a sense of decline and poverty also emanates from the scene in which an old couple shops in a bare supermarket (36:30-36:59) as well as from the encounters with the male walker who has recently been made redundant (32:20-33:25) and with the man who cannot afford to go abroad (17:05-17:10). These scenes resonate with the frustrations of the people who feel that the UK – as a society, economy and democracy – "works well for a privileged few, but not for them" (as Theresa May puts it in her Conservative conference speech). These frustrations may provide one of the more suitable explanations for the referendum outcome on 23 June.
Fourth and finally, one of Parr's recurring questions throughout the documentary is whether people think England has changed. Even though most people answer in the affirmative, only very few explain the reasons behind their answer. One of the most articulate answers in this respect is given by the man trimming his hedge in a suburban neighbourhood of Bristol who bemoans the general decline in community spirit and elaborates how people are less and less in contact with one another – partly because people need each other less than before since they can buy everything in a shop (28:57-29:57). Here, Parr's documentary is astonishingly anticipatory of the Brexit vote if we think of the post-referendum revelations about social media's isolating and damaging impact on real-world communities (and the (ab)use of social media by the Vote Leave campaigners) and the widely-discussed assumption that social media's creation of unconnected bubbles has contributed to the emergence of a post-truth era.
Thinking of England in Technicolour – Comparing the Aesthetics of Film and Photo Series
In concluding, I would like to briefly focus on the film's aesthetics and on how it differs from Parr's photographic work. A closer look at both film and photographs reveals that there is a noticeable difference in framing. The two examples below (Figure 1 and 2), for instance, demonstrate how Parr often opts for odd and striking angles and partly obscures people in his photographs. This way of framing draws attention to the photographer as a shaping force guiding our viewing experience. The framing and the clearly marked composition of the photos also add a sense of irony.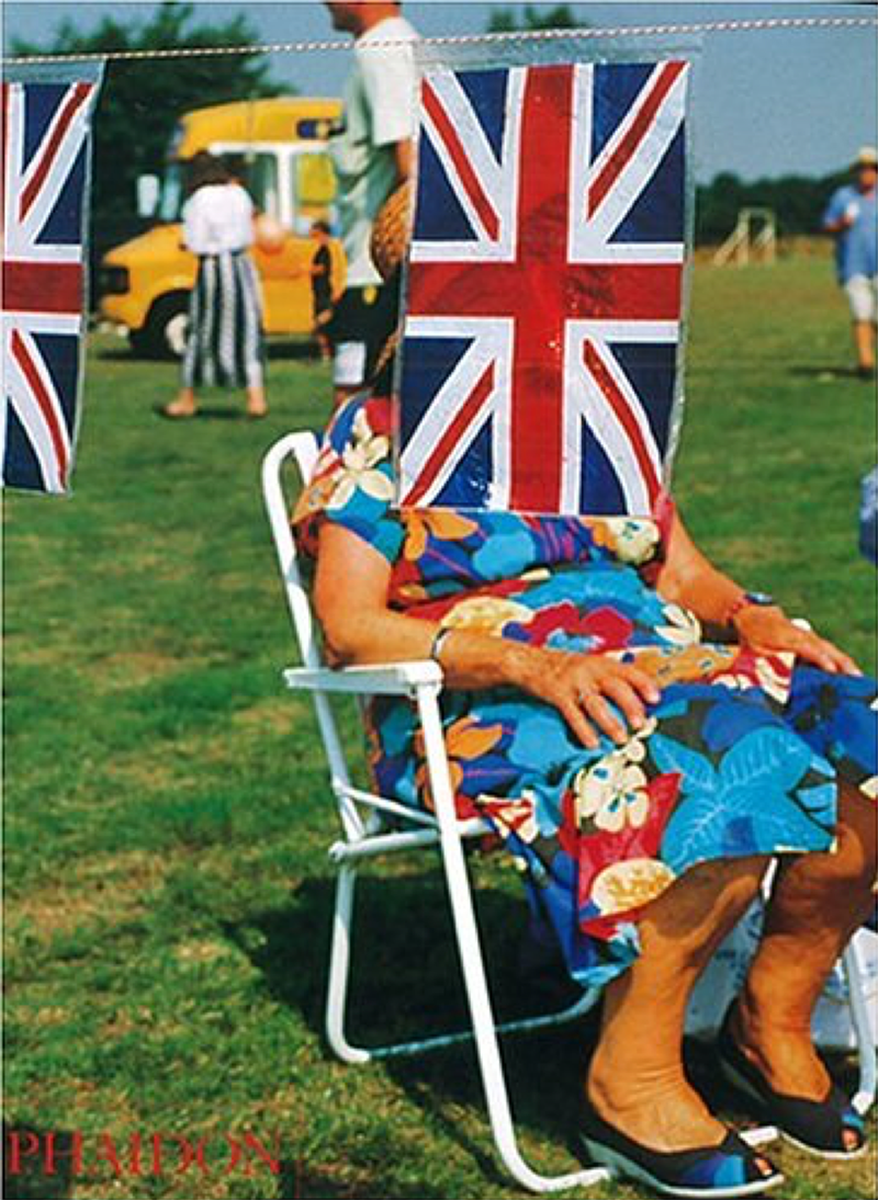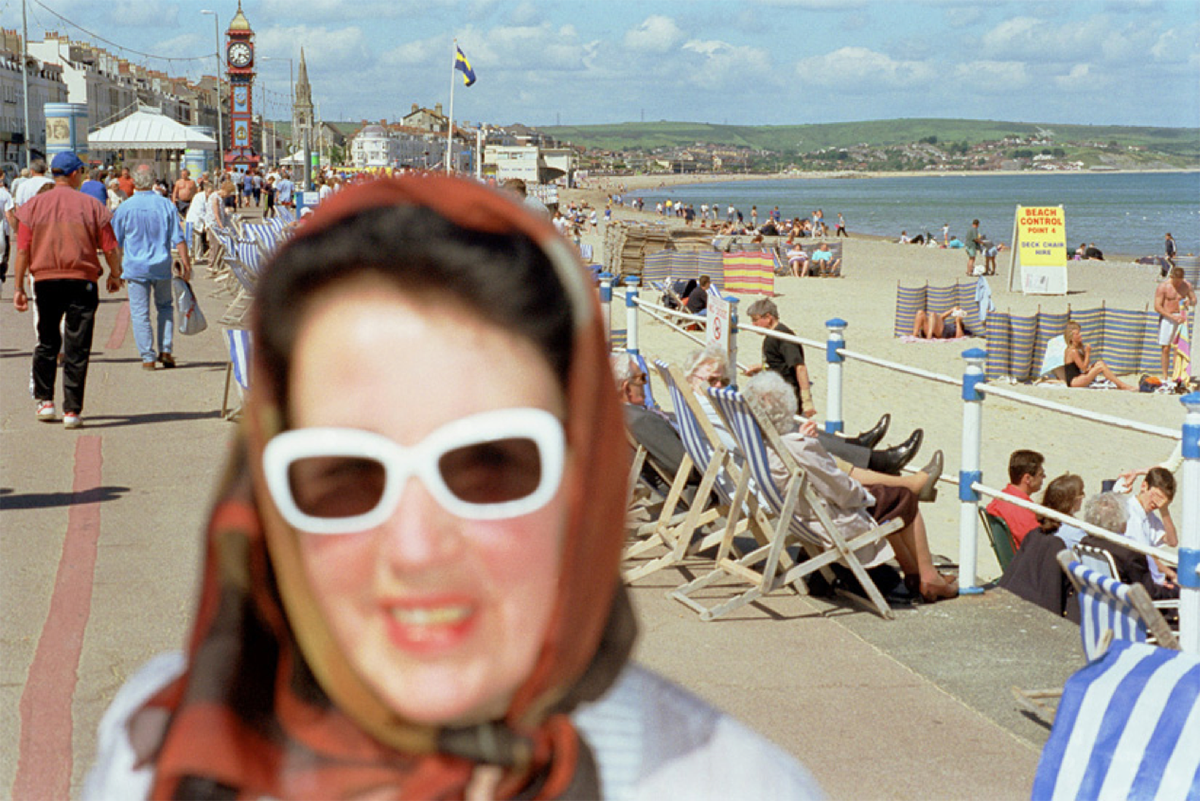 The photographs' saturated colours, reminiscent of early film's technicolour as well as polaroid snapshots, can be linked to the content of the photographs, namely the eccentric habits of the English people depicted by Parr. The film, by contrast, trades the photographs' exaggerated colours and clearly marked sense of composition for generally more subdued colours, spontaneity, authenticity and fun. In the film, interview situations, in which interviewees are clearly visible, alternate with shots that resemble the photographs. Also, the sense of a journey which allows the documentary to display a variety of 'Englands' provides a different and more realist structure than the theme-based arrangement of Parr's photographic exhibitions, bearing titles such as "Suited and Booted", "Bad Weather", "Food", "The Cost of Living", and "Common Sense". Consequently, the film's sense of irony is more remote than that of Parr's photographic work. At first, this may be considered a shortcoming of the film. Yet, from a post-referendum perspective in particular, may not the film – rather than the ironic and ultimately endearing photographs – provide the more accurate portrayal of what, nearly 20 years later, has turned the UK into a deeply divided country in crisis? After all, the serial structure unites snapshots of daily life in the UK under one thematic heading, thus exhibiting more strongly a (= Parr's) view on Britain than a view of Britain. The common denominator of the heading suggests a set of shared traits and indicates how the photographer engages with the national imaginary of the British. The documentary, by contrast, rather assembles vignettes, and the loose succession of scenes as well as the film's open-endedness make for an ultimately less homogenizing structure. Interestingly, in the film, the premonitory fissures resulting from class divisions, geographical differences, economic decline and a decrease of social cohesion – four aspects which later presumably informed the British Brexit vote – are not visually revealed but verbally, i.e. in the statements of the people Parr encountered on his journey. Hence, it is precisely by considering the interplay of themes and composition, of moving images and speech, of individual scenes and overall framing, that the anticipatory potential of Parr's film begins to show.
Notes