a
clustered

|

unclustered
Danyil Zadorozhnyi
09 / 05 / 2022
Yet Again, There is Poetry
(transl. Yuliya Charnyshova)
Yet again you have spread the sand all around the house, 'cause you walk in and you walk out all of the time, fetching some water, and then you fall asleep in your shoes. Yes, everything feels like you've just stayed here for a couple of years, no more than that. You were living here without knowing that something was moving toward you. You didn't watch the crack as it's been appearing, how it walked the wall of the building. You didn't think you wouldn't be able to leave once you sense danger. I have no chance to think about any poetic periods—now everything is so inappropriate— except for the war. Yet the war in itself is also so inappropriate, the most inappropriate of all things, the most untimely and useless. Although I would very much like to think about what I was thinking about before February 24—and yet there is war that has begun. On a full scale. Well, as a matter of fact, it has been going on since 2014. It's becoming harder to explain this to foreigners. It is hard to keep it in mind and harder to live it with each year. To know now that while their troops are attempting to take Mariupol again, judges in Kyiv are taking bribes yet again. There are builders, dismantling historical heritage despite the martial law in Kyiv, emptied by war. Well, at least it is builders, not bombs. If Russians were there. You imagine yourself and your loved ones in such a place. If Russians were there. How quickly would they start shooting and all that? * Nowadays, there is no point in convincing those who support the war, who justify it, but on whom no decisions depend, who have sold their agency as if it was a soul. I don't have the energy for that. And the decisions of those who control the regime, the discourse, and a nuclear weapon will depend on the type of resistance that happens at the front. It's just a situation like this—where we cannot surrender.
---
Вкотре (поезія)
знов розніс пісок по всьому дому бо ходиш-ходиш по ту воду, а потім спиш у взутті, так, наче зупинився тут на кілька років, не більше. жив тут і не знав, що на тебе щось рухається, не дивився, як стіною будинку йде тріщина, не думав, що не зможеш виїхати, якщо відчуватимеш небезпеку. у мене немає можливості думати про поетичні періоди, зараз все таке недоречне — крім війни. і сама війна теж вкрай недоречна, найнедоречніша із речей, найневчасніша і найнепотрібніша хоча дуже хотілося б думати про те, про що думалося до 24 лютого — а тут війна почалася. повномасштабна взагалі-то, вона триває з 2014 року. дуже складно пояснювати це іноземцям. складно тримати це у своїй голові та жити у цьому щорічно. знати зараз, що поки вони знову беруть маріуполь — судді у києві знову беруть хабарі будівельники зносять історичні пам'ятки попри воєнний стан у спорожнілому києві хоча б не бомбами, як росіяни уявляєш себе та своїх близьких на тому місці, якби і сюди прийшли росіяни як швидко вони б почали розстрілювали та все таке інше?. * якщо чесно, то зараз немає ні сил, ні сенсу переконувати тих, хто підтримує цю війну, хто виправдовує її, але від кого вже не залежать ніякі рішення, хто віддав свою суб'єктність як душу а рішення тих, хто керує режимом, дискурсом та ядеркою залежатимуть від боїв на фронті це така ситуація, де ми не можемо здатися
22 / 04 / 2022
Not thankful but sorry
(transl. Yuliya Charnyshova)
not thankful but sorry to stay alive in the relative safety of sealed windows in western cities. heating on, there's food, Internet, and we're not under siege. while in Mariupol they're taking delight in seeing snow, knowing it can be collected in a basin and drunk in between ceasefire violations and an attempt to evacuate. and after almost two months of occupation, I just want to shout about it because no one can hear or do anything. trying to break through the enemy lines with our helplessness, paving the way, a humanitarian corridor made of the enemy's prayers, phone calls to their wives and corpses. sorry for being lucky not to be in the wrong place at the wrong time, not to be born in their way, in the mind of his plan to capture us all. us, anxiously waiting, weaving a camouflage net or assisting resettlement of refugees at the railway station. in a reflective vest that a volunteer took off her sleepless shoulders. she's having dreams about downpours of shells being dropped on Sheptytsky Hospital, in which Ivan Franko has died. the country needs all of it, this too [can you write poetry after what happened?] poetry just like language can be there after anything just not for everyone and you too cannot stand it right now hating it for being untimely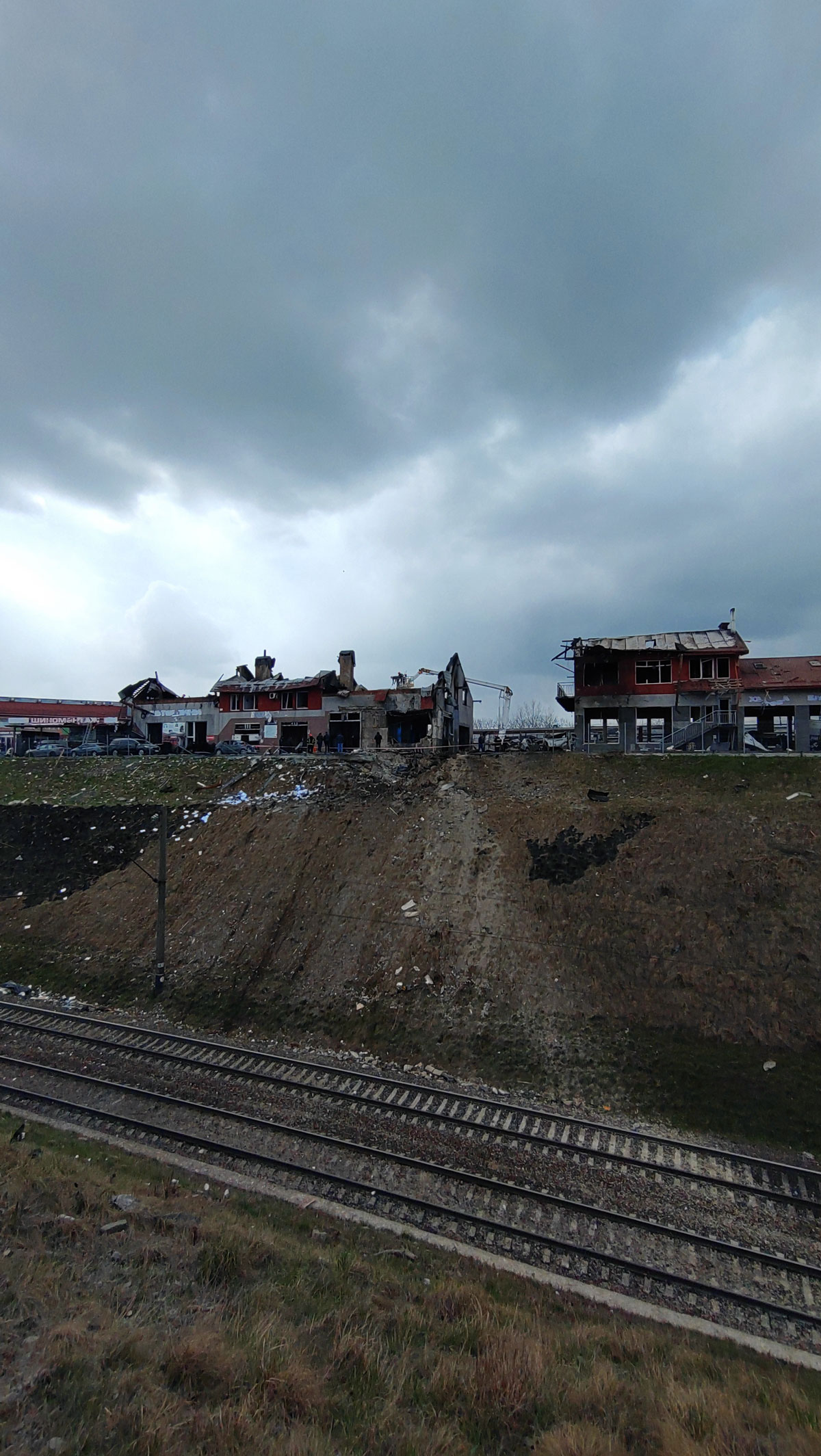 ---
не дякую, а вибачте, що лишився живим у відносній безпеці заклеєних вікон західних міст у теплі, з їжею, інтернетом та не в облозі поки в Маріуполі тішаться снігові, бо його можна зібрати в таз та пити між порушеннями тиші та спробою евакуації а після майже двох місяців окупації хочеться просто кричати про це бо ніби ніхто не чує й не може нічого вдіяти з безсиллям проривати оточення у вашому напрямку проклавши гумкоридор з їхніх благань, дзвінків до дружин та трупів що пощастило не опинитись не в тім місці, не у той час не народитись на їхнім шляху в голові його плану захоплення тривожно чекаючи за плетінням сіток та розселенням біженців на вокзалі у світловідбивній жилетці з невиспаного плеча волонтерки зі снів про зливу снарядів на шпиталь шептицького в якому помирав франко це також потрібно країні поезія як і мова можлива після будь-чого просто не для всіх й ти також її зараз не хочеш зненавидівши за невчасність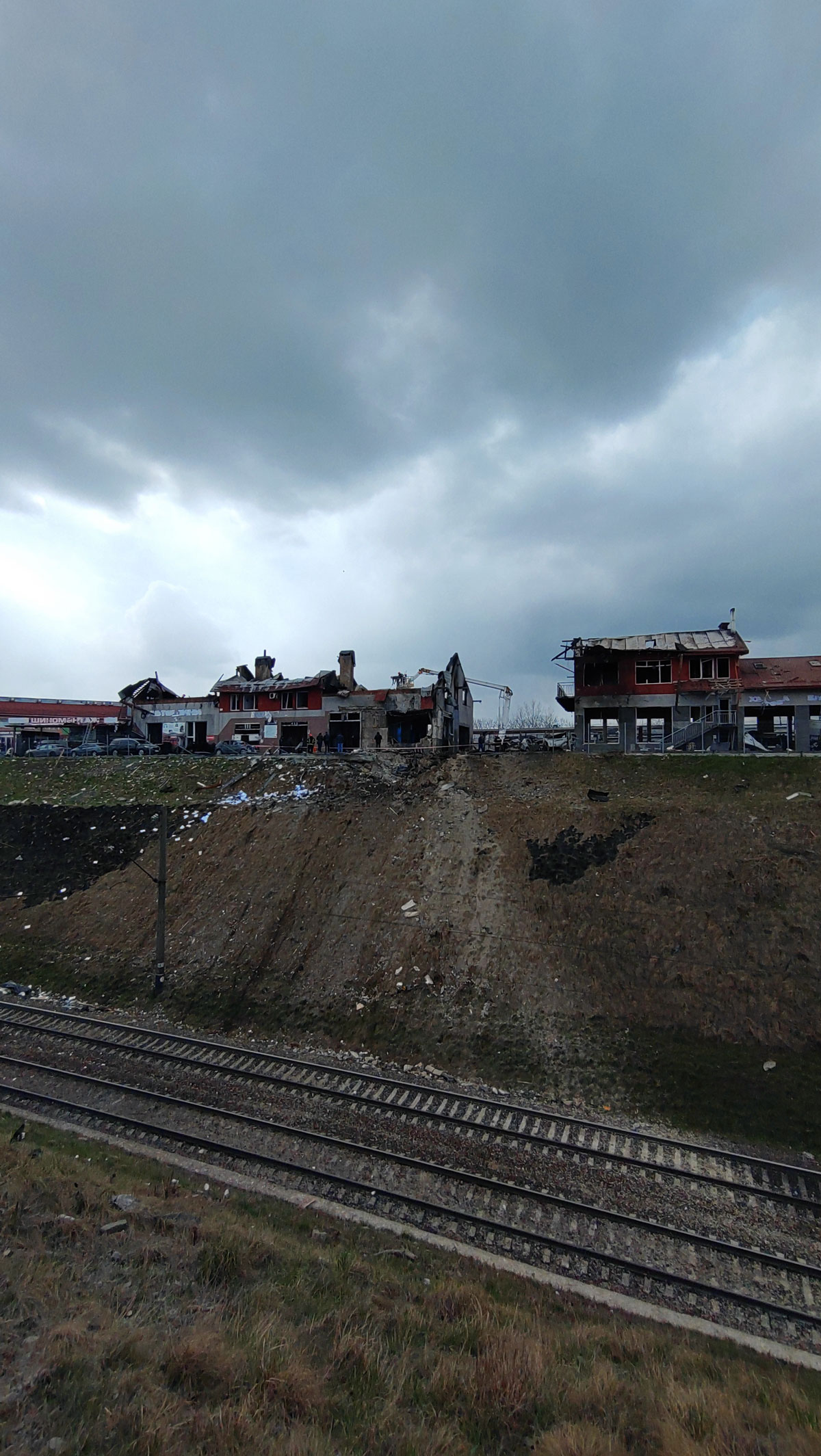 15 / 04 / 2022
Can't promise you much
(transl. Yuliya Charnyshova)
you ask me whether everything is going to be alright with us, will we be okay? and I answer that yes, we surely will, although you know that I can't promise you much just like I cannot leave the country. we've talked it all through, and you remember that because that's where we live and now you're living here too and there's russia, invading our home like a knife through the body of belarus but look at the east of ukraine right now, look farther and closer in our house, we've gathered so many things in one place near the doorway, both most important and not important at all, money, medicine, and clothes we've moved furniture to free up some space we're now hosting people from the rest of ukraine everything's different and we could never get used to it, but we are getting used to it. though it's not about me. it's all about listening to what people who survived the invasion are saying, in what languages are those people talking? come and see and listen I can't listen to it, for so long, it's too much, but it's what we need to know and remember what happened, sluchilos' or trapylosʹ to us because of them/you but you seem to be calmed by me saying it's gonna be alright so I'm happy to see you find something comforting though I don't like to say that everything is gonna be fine, especially when in fact, everything's fucked and it's gonna get worse
---
ты спрашиваешь, все ли с нами будет хорошо, все ли будет в порядке и я отвечаю, что да, конечно будет, хотя ты знаешь что я не могу обещать тебе этого так же, как не могу уехать мы проговорили все это, ты помнишь потому что живем здесь и ты теперь здесь живешь и россия вторглась в наш дом ножом сквозь тело беларуси но смотри на восток украины сейчас, смотри дальше и ближе мы собрали самые важные и неважные вещи в одно место у выхода как деньги, медикаменты, одежда передвинули мебель, освободив место принимаем людей из остальной украины все стало совсем по-другому и невозможно привыкнуть, но привыкается но это не обо мне. важно слушать не меня, а то, что рассказывают люди, выжившие после оккупации на каких языках? смотрите и слушайте я не могу это слушать, так долго, так много, но необходимо знать и помнить что было, случилось і трапилось з нами из-за вас но тебя успокаивает, когда я говорю, что все будет хорошо и я рад, что тебе от этого спокойней хотя сам не люблю говорить, что все будет хорошо. особенно когда на самом деле все очень хуево и будет еще хуже
08 / 04 / 2022
Ukraine. War. Bucha. Mariupol. Russia. Genocide
(transl. Yuliya Charnyshova)
I am writing this text listening to yet another air raid siren. First, I hear the siren blaring from my phone, via a specifically designed app that notifies Ukrainians of the alarms. Then a notification from a social media app—there is a Telegram channel which posts only information about air raids. And only after that, behind the glass of my window that is now covered with a cross made of adhesive tape to protect us from explosions, the actual city siren can be heard, and then several more of them. Under my window, I also hear a mother arguing with her adult son, complaining that he smokes too often outside without closing the door of their apartment.
Sometimes a car passes by. There is a loudspeaker on it that warns civilians of danger and asks them to take cover in air raid shelters. Once, before February 24, the same loudspeaker asked people to wear masks and maintain social distance. Sometimes at night you can see how some kind of military equipment passes by—long pipes of different thicknesses staring at the sky, preparing to fly. After the curfew, which starts at 10 p.m., there is almost no one on the street, but in fact you can go out. You just have to be extremely careful. Drunk people who get caught at night by police are handed call-up papers that require them to show up for military service.
Nonetheless, sometimes you look out the window at 3 a.m. and see a person, or two, or a small family walking. With their bags, pet carriers, they come from the side of the train station and have their children with them.
... Sirens from war films or sirens as if there's an alien invasion. A mother and a child coming back from their walk, now rushing to the nearest shelter. Air raid alerts going off in almost every region of Ukraine. This means that somewhere someone's home is being bombed right now. That someone shoots and reloads their weapon.
But I don't go to the shelter. And this is recklessness. An indiscretion. A habit of practice. And a privilege. It's horrible, but there's a monstrously big difference: to live in a city under occupation, under siege, or under shelling—and to live in a city where there is none of this. Rocket attacks hit my city, Lviv, located in the west of Ukraine, only twice, damaging strategic infrastructure. But in the Lviv region, rockets hit a security center, killing 35 soldiers and wounding another 134.
And some cities no longer exist—they've razed them to the ground, in their failed attempts to capture a single large city. Except for Kherson, where pro-Ukrainian anti-occupation rallies are now being held and where journalists, officials, and activists disappear. They are probably being tortured and persuaded to cooperate with the occupying forces.
Almost every day, a few air alarms are being ignored. It's like masks during the pandemic. Over time, people treated them carelessly, despite being engulfed by COVID waves.
There is a huge sense of guilt felt by those who are safe, who have left their homes—they feel guilty towards those who are forced or decided to remain in the war zone or under the occupation of Russian and pro-Russian forces. Many people refuse to leave when they are forcibly "evacuated" by Russian soldiers. Only in rare cases these soldiers try to "rescue" you (and extract you to Russia to become part of propaganda stories for federal television channels) and not to rape or shoot you, or they force you to fight for Russia as cannon fodder in occupied territories…
Last week, I recorded a conversation with a woman from Mariupol who had lived in the city besieged by the Russians for about two weeks—no communication, no gas, no heating for anyone, no water and food for most people. Living in a shelter while the house above you is being annihilated. She had no idea that the same thing was happening to the whole city, and not just to them, who had taken refuge in the suburbs, near the Ukrainian military positions. As if the invaders were burrowing into the shelters with their claws-bombs, trying to obliterate them by piercing the ground. "It's like an irrational force trying to kill you, but you don't understand why. You don't understand the meaning behind their actions," she said.
On the 20th day of the war, they were pulled out of the shelter by Russian or pro-Russian forces and forcibly sent to Russia, to so-called "filtration camps", where Ukrainian refugees are used for Russian propaganda purposes. Everyone greatly underestimates the Kremlin propaganda machine. Instead of being an informative media outlet, it is just another weapon, reminiscent of the "Radio of the Thousand Hills" (Radio Télévision Libre des Mille Collines).
The Russian President believes that we as a nation do not exist. Russian troops consider me a Nazi. And for this, I and all other Ukrainians whom they call Nazis must be killed. And that's what they are doing, they're killing us.
I have the feeling that the world does not understand Russia when it tries to analyze it. But the world doesn't have to. Most importantly, the Russians themselves do not understand what country they live in. Most of them either believe or silently agree with the TV. If you haven't seen footage from Bucha yet, then check it out. 40th day of the war. Those bodies have been there for weeks. But the majority of Russians believe what they get to see and thus silently agree with what is happening. Even if they don't support the tyrannical power, they don't interfere with it. They're intimidated and yet compliant. Behind this complicity, some sort of responsibility lurks in joyless anticipation – gloomily watching over one's children – just like a ghost of oneself.
It is very scary, hard, and unbearable to spend so much time in the war mindset. And I'm talking nonsense now when I'm complaining, since I'm relatively safe. But non-humans are killing my people... You look at a woman on the street, and it hurts, as you cannot but remember the footage from the Kiev suburbs: what they did to people, how they left them on the curb afterwards. Or the recordings from video surveillance cameras: Russian soldiers, having left the Kiev region, lining up in Belarus to send home all kinds of stolen goods, like TVs, blenders, jewelry, and so on. This is the culture of that army.
I realize that this is a dehumanization of the enemy. We are all Homo sapiens, that is, people. But in order to live in a society with rules and enjoy its benefits you have to be a Human, not a murderer from the times that Hobbes described in Leviathan, when life was "solitary, poor, nasty, brutish, and short".
("... and which is worst of all, continual fear, and danger of violent death")
This is not the sort of discourse that I wanted or chose, but just like many other Ukranians, I have to live in it. Fight and at the same time try to live a life in safer regions.
We call what is happening genocide. You can also call it sociocide. There istorture, rape, execution, war crime, looting, kidnapping, impunity, greed, cruelty, and sadism. Most of them do not understand what they are doing here and why they are so hated for their invasion. And they do not behave like humans who live in a free and safe society. Their sin is transcendental violence.
***
It feels like an undeserved gift, an accident, a privilege. To live in a city, in your own house, to have a job, to go for a walk or out for coffee. I'm embarrassed. But we are starting to understand that you can't change anything through feelings of guilt, and you can and should put all of your strength into the economy, into volunteering, into territorial defense, into taking care of yourself. Into the help for internally displaced people. Into the help for abandoned animals.
My wife and I have decided to adopt a cat, which is being brought to us from Kharkiv—it was abandoned by its previous owner.
The war will not end soon. There are weeks and months ahead that will shock us even more than Bucha… More than 10 million Ukrainians have left their homes. Out of these, 6 million are now internally displaced persons. Another 4 million went abroad. Most of them are women, children, and elderly people. I know for a fact that Russia will continue to kill innocent people while I sit here and mourn for them.
Another air raid alarm ends. My wife enters the kitchen (where I am writing) from the most secure room in our apartment, the one with load-bearing walls. We understand that the danger has passed, which means that either the air defense has done a good job or that horrible things have happened to someone else. There are no safe places in Ukraine. But then there are places that were turned into hell on earth, where no one, least of all the sadistic and corrupt Russian leadership, would want to live.
---
Украина. Война. Буча. Мариуполь. Россия. Геноцид
Я пишу этот текст под сирену очередной воздушной тревоги. Сначала сирена исходит из телефона, через отдельно установленное приложение, оповещающее о тревоге. Потом приходит сообщение из телеграм-канала, который постит только оповещения о тревоге. И только после этого за стеклом, крест-накрест переклеенным скотчем, раздается одна, и тут же еще несколько завывающих сирен. Под окном слышу, как мама ругается с взрослым сыном, что он слишком часто курит, не закрывая дверь.
Иногда мимо проезжает автомобиль, который из динамиков предупреждает об опасности и просит пройти в укрытие. Когда-то, до 24 февраля, он просил из этих же динамиков носить маски и соблюдать дистанцию. Иногда ночью можно увидеть, как проезжает какая-то техника — длинные трубы разной толщины, уставившиеся в небо, готовящиеся к полету. После начала комендантского часа в 22 вечера почти никого нет на улице, но выйти можно. Если только очень аккуратно. Пьяным, которых поймали ночью, вручают повестки из военкоматов.
Но иногда смотришь в 3 ночи в окно и видишь, как идет человек, или два, или семья небольшая: с сумками, переносками, со стороны вокзала, с детьми.
… Сирены из кинофильмов про войну или как нашествие пришельцев. Мама с ребенком спешат с прогулки в ближайшее укрытие. Воздушная тревога на большей части территории Украины. Это значит, что где-то кого-то бомбят. Что кто-то стреляет и перезаряжает оружие.
Но я не иду в укрытие. И это опрометчивость. Самонадеянность. Привычка практики. И привилегия. Это ужасно, но это чудовищно большая разница: быть в городе под оккупацией, в осаде, или под обстрелами — и быть в городе, где нет ничего из этого. В мой город, Львов, находящийся на западе Украины, ракеты прилетали только дважды, в инфраструктуру. Но в области ракета упала на полигон и убила 35 солдат, ранив еще 134.
А некоторых городов уже больше нет — они сровняли их с землей, не захватив ни одного крупного города. Кроме Херсона, в котором проукраинские митинги и пропадают журналисты, чиновники и активисты. Их наверняка пытают и склоняют сотрудничать с оккупацией.
Почти каждый день несколько игнорируемых тревог. Это как с масками, когда был коронавирус. Со временем люди носили ее спустя рукава, хотя все тогда жили между волнами.
Есть огромное чувство вины тех, кто в безопасности, кто уехал — перед теми, кто вынужден или решил оставаться в зоне боевых действий или под оккупацией российских и пророссийских сил. Многие люди отказываются уезжать, когда их принудительно "эвакуируют" российские солдаты. Тот редкий случай, когда они пытаются вас силой "спасти" в Россию, используя вас в пропагандистских сюжетах для федерального телевидения, а не изнасиловать или пристрелить. А еще могут отправить воевать за Россию как пушечное мясо со стороны оккупированных территорий…
На прошлой неделе я записал разговор с женщиной из Мариуполя, которая около двух недель жила в осажденном россиянами городе — без связи, без тепла, многие без воды и еды, живя в укрытии, пока дом над тобой разносят и после того, как его разрушили. Она понятия не имела, что то же самое происходит со всем городом, а не только с ними, укрывшимися в предместье, возле дислоцирования украинской военных. Как будто оккупанты зарываются когтистыми бомбами в само убежище, пытаясь и его сровнять с землей, прорубив в земле воронку. "Как будто иррациональная сила пытается убить тебя, но ты не понимаешь, зачем ей это. Не понимаешь их смысла", говорит она.
И вот на 20-ый день их из убежища вытаскивают российские или пророссийские силы и принудительно отправляют в Россию, в так называемые "фильтрационные лагеря" для беженцев из Украины. И снимают там с ними пропагандистские видео. Все очень сильно недооценили кремлевскую пропаганду. Это не СМИ. Это "Радио тысячи холмов" — Radio Télévision Libre des Mille Collines.
Российский президент считает, что нас как нации не существует. Меня вот российские войска считают нацистом. И за это меня и всех остальных украинцев, которых они назовут нацистами, надо убить. Чем они и занимаются.
У меня чувство, что мир во многих смыслах не понимает Россию, когда пытается ее анализировать. Но мир и не должен. Самое важное в этой мысли то, что сами россияне не понимают, в какой стране они живут. Большинство либо верит, либо молча соглашается с телевизором. Если вы не видели кадров из Бучи, то ознакомьтесь. 40-ый день войны. Эти тела лежат там уже недели. Но большинство россиян верит или хотя бы молча соглашается с тем, что происходит, и если не поддерживает, то не препятствует тиранической власти, что становится запуганным, но соучастием, за которым в грустном ожидании молча смотрит на твоих детей твоя ответственность — твой призрак, подсматривающий за детьми.
Очень страшно, сложно и невозможно больно столько времени находится в майндсете войны. И я говорю глупость, жалуясь, так как я в относительной безопасности. Но там нелюди убивают моих людей… Смотришь на женщину на улице, и больно, вспоминая кадры из киевских пригородов, что они с ними сделали, оставив на обочине. Или видео с камер наблюдения: российские солдаты, выйдя из киевской области, в Беларуси выстраиваются в очередь, чтобы прислать домой украденные телевизоры, блендеры, украшения и так далее. Вот такая вот культура у этой армии.
Я знаю, что это дегуманизация врага. Все мы homo sapines, то есть люди. Но, пожалуйста, если ты хочешь жить в обществе с правилами и пользоваться его благами, то надо быть Человеком, а не убийцей из времен, которые описывал Гоббс в "Левиафане", когда жизнь человека была «одинокой, бедной, неприятной, жестокой и короткой».
(... and which is worst of all, continual fear, and danger of violent death; and the life of man, solitary, poor, nasty, brutish, and short)
Это не тот дискурс, который я хотел, который я выбирал, но мне, как и моим согражданам, приходится жить в нем: воевать и в то же время пытаться жить жизнью в тех регионах, где безопасней. Мы называем это геноцидом. Можно также назвать это социоцидом. Это пытки, изнасилования, казни, военные преступления, мародерство, похищения, безнаказанность, жажда обогатиться, жестокость, садизм, похоть. Они не понимают, что они здесь делают и почему их так ненавидят из-за вторжения. И не ведут себя как люди, которые живут в свободном и безопасном обществе. Их грех — это запредельное насилие.
***
Это ощущается как незаслуженный дар, случайность, привилегия. Жить в городе в своем доме, иметь работу, гулять, выходить за кофе. Мне очень стыдно. И в то же время в социальных сетях начало появляться много разговоров, что да, все так, все ужасно, это несправедливость. Но ощущением вины ничего не изменишь, а свои силы можно и нужно направлять в экономику, в волонтерство, в территориальную оборону, в заботу о себе. В помощь вынужденным переселенцам. В помощь брошенным животным.
Мы с женой как раз берем кошку, которую нам везут из Харькова — ее бросила предыдущая хозяйка. Война не закончится так скоро, нас ждут недели и месяцы, которые будут потрясать больше, чем Буча… Больше 10 миллионов украинцев покинули свои дома. Из них 6 миллионов — переселенцы внутри страны. Еще 4 миллиона уехали за границу. Преимущественно это многодетные семьи, женщины, пожилые люди, дети.
24 февраля Россия атаковала с севера через Беларусь, с востока и с юга, через Крым. Между Крымом и востоком зажат Мариуполь. Западные области и часть центральных в относительной безопасности. Здесь есть понимание, что Россия собирается убивать еще многих моих сограждан, пока я тут сижу и плачу из-за всех погибших.
Заканчивается очередная воздушная тревога. Моя жена входит из самой безопасной комнаты в нашей квартире, с несущими стенами. Мы понимаем, что то, что нас пронесло, значит либо хорошую работу ПВО, либо то, что досталось кому-то другому. В Украине нет безопасных точек. Но есть места, куда Россия притянула с собой ад, в котором никто, особенно сама Россия и ее садистское, коррумпированное, мафиозное руководство (которое даже не в состоянии выполнить то, на что замахнулось), жить не хочет.
04 / 04 / 2022
speak to me in death's language
there will still be time – and we'll mourn them all, saying out loud their names. for now, it can still be dangerous. however, we're already running out of both words and tears left for the people, for the besieged cities, for the occupied settlements. not sure if he loves you? although all suggests that he does. or is it you who's not sure? do you love him? oh, now it's all so irrelevant. I want to live, I want as many people as possible to survive, I want all of them dead so they can stop firing. in embarrassment, you choose what to say among the hastily learned words of another language muffled sounds fired by the artillery of the dark heart against my chest, like an echo in the crater of my pillow. shots that are audible from the windows blown out of the tower blocks burned to the ground. got to get married in time so they don't deport you. cannot forget that I'm not allowed to post videos of the explosions online please, don't forget – about Chernihiv or Mariupol. the long list of what got burned down everyone's so tense, mad, yet cohesive in groups guilt, felt by those who now live in relative safety feeling guilty for those who are living in danger, having no heat, no gas, no communication, no electricity. some blame those who save themselves from death and for what? because death has come for us? because you speak to me in death's language? and I was just lucky – to be born in some other city. I did not deserve this. they did not deserve what is happening to them. I, too, could be running on some beaten track, raising hands in front of the columns of Russian tanks, hoping that they would not shoot at us – like they did last time with that car with civilians in it. but why so? well, it's because there's war, going on the well-trodden path of crashed army vehicles "Russia wants to repeat it". and they did repeat – after those who came to my land to kill and destroy. and they've done it before – they came here long ago, even before this war started. we're forced to remember history. we know it so well because it is happening to us right now. so close in the distanced past – it's right here right away and yet and still
(Translated by Yuliya Charnyshova)
---
смерть прийшла – і ти звертаєшся до мене її мовою
ще буде час – і ми їх всіх оплакуватимемо, називаючи імена. це все ще може загрожувати. хоча й зараз не вистачає ні слів, сліз: на людей на обложені міста на окуповані селища не певна, що він тебе любить? хоча все свідчить, що так. чи не певна, що сама його любиш? ох, зараз це все стало таким неважливим, хочеться жити, хочеться, аби вижило якнайбільше людей, щоб вони всі померли й перестали стріляти, розгублено обираєш що сказати з-поміж поспіхом вивчених слів іншої мови глухі удари артилерії чорного серця по грудях, ніби відлуння у воронці подушки, чутне з вибитих вікон згорілих дотла багатоповерхівок потрібно встигнути одружитися, щоб тебе не депортували не потрібно викладати вибухи у соцмережі не можна забувати про чернігів маріуполь довгий список пожеж.. всі такі знервовані, злі, згуртовані провину відчувають ті, хто у відносній безпеці перед тими, хто в небезпеці без тепла, без газу, без зв'язку, без електрики звинувачуючи тих, хто рятує себе від смерті у тому, що смерть по нас прийшла і ти звертаєшся до мене її мовою і мені просто пощастило, що я народився в іншому місті. я нічим цього не заслужив. вони нічим не заслужили того, що з ними відбувається. я теж міг тікати битим шляхом, здіймаючи руки перед колонами російських танків, сподіваючись, що не розстріляють, як ту автівку з цивільними. а чого так? та бо війна йде протореною стежкою розбитої техніки …і вони "повторили", але за тими, хто нею прийшов. і це вже не далеко не вперше сюди приходять. ми змушені пам'ятати історію. ми її знаємо, бо відбувається з нами тепер так близько у далекому минулому – просто тут зараз і досі